CLARA DRISCOLL
"Savior of the Alamo"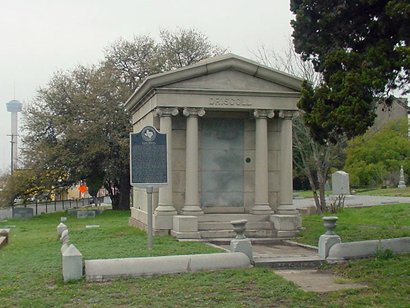 Historical Marker Text
Clara Driscoll
(April 2, 1881-July 17, 1945)

A descendant of early Texas colonist, including a veteran of San Jacinto, Clara Driscoll was born in Refugio County and grew up as a wealthy rancher's daughter. In 1903, soon after returning from school in Europe, she learned that the Long Barrack, part of the historic Alamo, was about to be sold as a hotel site. When the state failed to act, she bought the property, using her own funds to supplement money raised by the Daughters of the Republic of Texas. Her gesture sparked public interest and won her the title "Savior of the Alamo." The state reimbursed her in 1905 and placed the Alamo in the care of the DRT. In 1932 she helped the state buy land south of the Alamo Chapel.

Clara Driscoll was active in business, politics, and the arts. She headed several state organizations, including the Daughters of the Republic of Texas, and served as Democratic National Committeewoman, 1928-44. She gave generously to support the Texas Federation of Women's Clubs, the Texas Fine Arts Association, and medical services for underprivileged children.

Married to newspaperman Henry H. Seveir, 1906-37, she lived in Austin before moving to Corpus Christi to manage family properties. After she died, her body lay in state in the Alamo Chapel before burial here.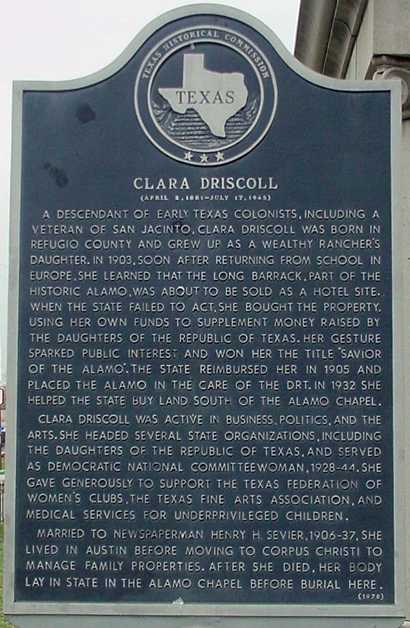 Clara Driscoll historical marker
TE photo
The Alamo
Postcard courtesy www.rootsweb.com/%7Etxpstcrd/
From
The Second Battle of the Alamo by C. F. Eckhardt

It might come as a surprise to many Texans that there were two 'battles of the Alamo.' There was the one in February and March of 1836, and then there was one that lasted for nine years—from 1903 to 1912.

I really don't like to write about the Alamo. Not that I don't appreciate what its significance for Texas is--I can't read Travis's last letter on the wall there without tears coming to my eyes, and I know what a first-water (expletive deleted) he was in his personal life. Still, everybody's written about the Battle of the Alamo—the first one, that is. Not many folks have written about the second one.

Texas didn't do much with the building. There was no restoration, no effort even to preserve the crumbling walls. The state owned it, it was there, that was it. Title to much of the land to the north of the chapel, where the old convento stood, was held, in the 1890s, by Hugo & Schmeltzer, a firm of wholesale merchants. They had a huge frame warehouse and salesroom built adjacent to the chapel and at least some of their offices were in the convento.

In 1903 Hugo & Schmeltzer was closing its doors for good and selling off its assets—one of which was the land to the north of the chapel. About three years earlier a young woman named Clara Driscoll, whose grandfather, Daniel Driscoll, was a San Jacinto veteran, returned to Texas after spending seven years in school in Europe. Clara was impressed with the way Europeans preserved and protected their historical sites. When she saw the condition of the Alamo chapel and the land where the battle was fought, she was furious. She began a letter-writing campaign to newspapers around the state. The objective was the preservation of the Alamo chapel and as much of its grounds as possible. She joined the DeZavala Chapter of the Daughters of the Republic of Texas and immediately began campaigning to acquire the Hugo & Schmeltzer property to add to the Alamo chapel, in order to begin proper preservation of the Shrine of Texas Liberty.

Now, Clara was a salty ol' gal, and there's more than rumor that she liked her nip—several of 'em in succession. She lived much of her later life in Corpus Christi, and at one time—now demolished—there was a luxurious hotel called the White Plaza 'on the bluff' in Corpus Christi, overlooking the bay. Clara and several cohorts tried to check into the White Plaza one night and were refused registration because, quite frankly, they were stewed to the gills and the management thought they'd disturb the other guests.

"By God," said Clara, "I'll build a hotel right next to your damn' hotel, an' it'll be bigger an' finer'n your damn' hotel, an' when I get it finished I'll spit on your damn' hotel." (For the record, she didn't say 'spit,' but that's what the tour-guides have to say she said.) She built the hotel—the Driscoll, which still stands as an office building in downtown Corpus Christi. It was right next door to the White Plaza. Atop the Driscoll, attached to the penthouse, is a projection that overhung the roof of the White Plaza. It was from that projection, so they say, that Clara did what she said she'd do on the White Plaza—and she didn't say 'spit.'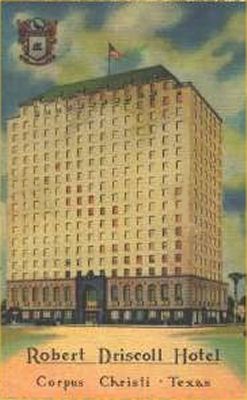 The Robert Driscoll Hotel in Corpus Christi
Postcard courtesy rootsweb.com/%7Etxpstcrd/
That was a long time later—in 1903 Clara was simply a wide-eyed young lady crusading for the preservation of what has become the single most widely-visited historical site in Texas and one of the most widely-visited in the US. She and members of the DeZavala Chapter, DRT, approached Hugo & Schmeltzer about selling the property adjacent to and directly north of the chapel.

"Sure," said Hugo & Schmeltzer. "You got seventy-five thousand bucks?"

The DeZavala Chapter of the DRT didn't have $75,000. Hugo & Schmeltzer was demanding $5,000 for a one-year option, with an additional $20,000 to be paid when the option expired and five annual installments of $10,000 at 6% interest to be paid over the next five years. The DeZavala Chapter—and the DRT as an organization—started trying to raise the money.

Almost immediately a new player entered the game. An eastern syndicate wanted to buy the Hugo & Schmeltzer property for a hotel, and it was offering better than $5,000 for a year's option. Clara, together with Judge James B. Wells of Brownsville and Floyd McGown of San Antonio, went directly to Charles Hugo, the surviving partner of Hugo & Schmeltzer, to try to preserve the property for Texas. Hugo agreed to give a 30-day option on the property for $500, cash on the barrel, and an additional $4,500 to be paid in 30 days. Clara reached into her purse, pulled out her checkbook, and wrote the $500 check that ultimately preserved the grounds of the Alamo as they are today.

The DeZavala Chapter DRT immediately called for a statewide appeal to raise the needed $4,500 by April 17, 1903—the day the option expired. Though the legislature was in session, it declined to appropriate the money to pick up the option. The DRT sent a delegation to the legislature—Clara headed it—and an amendment was placed on an appropriations bill to provide the $5,000 to pick up the option and reimburse Clara her $500.

Before the appropriations bill could pass the time ran out on the 30-day option. Rather than lose the property, Clara pulled out her trusty checkbook and put up the remaining $4,500. The property was safe for a year. The ladies waited for the legislature to act. The bill passed—but Governor S. W. T. Lanham vetoed it. Clara was out $5,000 and there was no guarantee the DRT could raise the $20,000 that would be due in a year, much less the $10,000 per year for the next five years—plus interest—to complete the purchase.

By February 10, 1904, the DRT had raised $5,666.23. The option was expiring and the eastern syndicate was sitting in the wings with money to buy the property for cash. Out came Clara's checkbook again, and she wrote a check for $14,333.77 to clinch the sale. She also signed, in her own name, five notes for $10,000 each at 6% per annum to complete the payment. She was now obligated for another $50,000 plus interest, in addition to taxes and insurance on the property—all for 'an unsightly old pile of rocks.' The deed of transfer included the words "This property is purchased by Clara Driscoll for the use and benefit of the Daughters of the Republic of Texas, to be used by them for the purpose of making a park about the Alamo, and for no other purpose."

There's something peculiar about Texans—we love a fighter. Our history—and our legends—are full of one-man—and one-woman—fights for what the fighter though was right. Clara's fight to preserve the land around the Alamo brought an immediate outpouring from around the state. Money rolled in—and so did sympathy. By August, 1904, the Democratic State Convention made purchase of the Alamo property a plank in the party's platform. On January 26, 1905, the 29th Legislature appropriated $65,000 to complete the purchase of the Alamo property. Governor Lanham signed the bill. The bill provided that the Daughters of the Republic of Texas should be custodians of the property. Clara formally transferred the property to the State of Texas and Governor Lanham conveyed custody of the property to the DRT. Just in case you think the funds don't quite add up, the DRT raised $10,000 on its own—and yes, Clara got her $19,333.77 back—but without interest.

The purchases that would ultimately expand the Alamo property into the park we know today had been made, but at terrific cost. The DRT, as an organization, was nearly flat broke. Clara's magic checkbook had taken a tremendous beating. The very last thing the DRT needed in connection with the Alamo was an internal squabble-—the sort of thing that would cause the doomsayers of Texas, of which we have never had a dearth, to say things like "See, those derned ol' women can't even get 'long amongst themselves. How're they gonna run the Alamo!" Unfortunately, that's just what they got.... more

See The Second Battle of the Alamo for full story
© C. F. Eckhardt