Barnhart, Texas Topics of Interests
History in a Pecan Shell

The town's namesake was William F. Barnhart, agent for the Kansas City, Mexico and Orient Railway when it arrived in 1910. Two years later a post office was granted as well as the first school (which closed in 1969). The Barnhart State Bank (established 1920) moved to Rankin in 1927. The town also had their own paper - named the Range.

From only 50 residents in 1915, Barnhart reached its zenith in 1947 with 250 Barnharters. In 1980 there were 74 citizens which has since increased to 105.
Barnhart
by Mike Cox ("Texas Tales" column")

Dust, bawling cattle, hell-raising cowboys and trains a half-mile long – that was Barnhart in the 1920s and '30s.

Once a bustling if miniature version of Fort Worth, this unincorporated Irion County town is mighty quiet these days. The population in 2009 was only 169, and Barnhart's school closed in 1969. (If you want big city life in these parts, go to the county seat of Mertzon, population 800-plus.)

Barnhart began when the Kansas City, Mexico and Orient railroad cut through West Texas in 1911. The name honored William F. Barnhart, the land agent who obtained the right of way for the company's tracks west of San Angelo.

Because of the Orient's location between major rail lines on the north and south, Barnhart quickly became an important shipping point for the vast chunk of real estate in between. Cattle and sheep poured out of West Texas on trains loaded at Barnhart.

The town had everything the cowboys and railroaders needed: A hotel, cafes, a bank and a theater. A weekly newspaper, the Barnhart Range, provided the town with local news.

Given the remoteness of West Texas, old-fashioned trail drives continued to Barnhart long after their heyday elsewhere. In fact, all those cattle coming through began to cause local ranchers problems. To protect their pastures from over-grazing, ranchers started putting up more fences. That ended what may have been one of the last semi-free range holdouts in Texas.

To get around the problem, the Ozona-Barnhart Trap Co. was organized in 1924. A long, narrow swath of leased or purchased land stretching 34 miles from south of Ozona to Barnhart became Texas' last major cattle trail, a corridor one newspaper labeled "the world's most unusual highway." Along it acreage for a series of six "traps" or pens – as important to cattle movement in those days as locks are to the Panama Canal – was acquired by the company and fenced to hold traveling livestock.

The company assessed five cents a head each night for cattle kept in one of the traps. Sheep, for one cent a head, could also be kept overnight in the traps. All a trail boss had to do was tell Ted Adkins, the company' Barnhart-based weigher, how many animals had stayed in a trap and pay him for that amount. No paperwork required.

If a sheep shipper needed help getting his animals motivated to board a train, Adkins could furnish two lead goats – Lou and Whitney. Their follow-the-leader services cost 50 cents a carload.

Meanwhile, the railroad constructed large holding pens adjacent to its trackage at Barnhart. With ample infrastructure to serve a rancher's needs, sometimes as many as three trail drives a day hit town while trains with as many as 75 cattle cars hauled West Texas livestock to distant markets.

Prosperity brought its problems. In April 1934, the town's former postmaster pled guilty in federal court to "conversion of funds." Barnhart, stuck pretty much out in the middle of nowhere, definitely lacked in the law and order department.

At some point in 1934, the town solicited assistance from the brother of one of the state's best known peace officers, Texas Ranger Capt. Frank Hamer, to pacify its lawless element. That man was Harrison L. Hamer, a former ranger and just about as quick on the trigger as his older, more famous sibling. Frank Hamer had presided over the bloody demise of the outlaw couple Bonnie Parker and Clyde Barrow that May, but brother Harrison had laid low a badman or two himself.

"Harrison is doing quite a bit of cleaning up in our town among the trash," wrote his sister Alicia Cumbie to their mother on Aug. 20, 1934. "And they sure are getting hostile. This place sure needs someone to clean it up but he is sure up against a tough dirty bunch. He has a bunch of them in jail now."

The bad guys may have been "a tough dirty bunch," but Hamer, who apparently only stayed in Barnhart a short time before returning to his home in Del Rio, lived to old age and died of natural causes. Though what Hamer did in Barnhart seems to have generated practically no newspaper coverage, he evidently prevailed in restoring order.

Crime was not Barnhart's only problem in 1934. While that year the Associated Press declared Barnhart the busiest livestock shipping point in the nation, not every outbound train held jostling beeves. At the depth of the Depression, the federal government had begun buying cattle and having them shot to reduce supply, hoping to revive a market that had practically dried up. Ranchers got paid on the number of cowhides they shipped out and sheep skinners made good money turning their knives on dead cattle.

The Atchison, Topeka & Santa Fe eventually bought out the Orient, but Barnhart continued to flourish as a cow town through the 1940s. The advent of better roads and the widespread use of cattle trucks signaled an end to Barnhart's era as a major shipping center and 20th century Dodge City.

"Texas Tales" column © Mike Cox
See Also: Texas Ranching - Ranching, Cattle Drives, Cowboys & more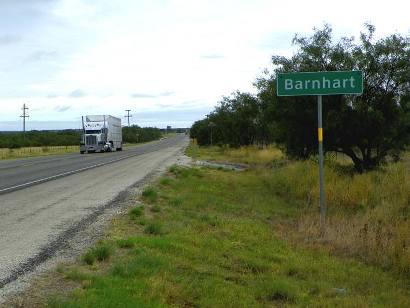 "My great grandma's grocery store. It was the Red and White and closed sometime in the 1950s." - Lauren Miles.
Photo courtesy Erik Whetstone, 11-04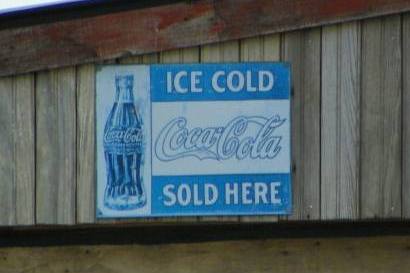 Barnhart Texas Forum
Subject: Barnhart, Texas
Did you know that Barnhart was the world's biggest livestock place to take your animals on the train? If you go down there you will see the water tank that used to give water to the steam engines. I got all of this from my grandma. She was there. - Lauren Miles, June 01, 2007


Subject: Barnhart Texas
My uncle Lloyd Chambers worked for the Santa Fe and lived in Barnhart. He had four children. Janet, Betty and twins Steve and Cleve. During the 1960's my brother and I would visit Barnhart for two weeks every summer. It was the greatest place to spend a summer. There were dances at the old school on Saturday and going swimming at Buck Owens' stock tank. It reminded me of the town in "To Kill a Mockingbird." Everyone knew everyone and they weren't afraid for their kids to go see the neighbors. We had the run of the town and had lots of fun. - Richard Chambers Snyder, Texas, June 11, 2006

Branhart - Texas Escapes' 1,000th Town, first published November 16, 2004
Texas Escapes, in its purpose to preserve historic, endangered and vanishing Texas, asks that anyone wishing to share their local history, stories, and vintage/historic photos of their town, please contact us.

Barnhart, Texas Area Hotels > San Angelo Hotels
Custom Search
Save on Hotels - Expedia Affiliate Network