---
KERMIT, TEXAS
"The only town in Texas to be
named after one of Theodore Roosevelt's Sons"

Winkler County Seat, West Texas

31°51'14"N 103°5'32"W (31.853995, 103.092336)
Hwys 18, 102 and 302
6 or 7 miles NE of Wink
47 miles from Odessa
22 miles from Monahans
10 miles from New Mexico
Population: 6,341 Est. (2016)
5,708 (2010) 5,714 (2000) 6,875 (1990)

Kermit, Texas Area Hotels > Odessa Hotels
Kermit - Home of Jim Sharp Champion Bullrider
Photo courtesy Barclay Gibson, February 2010
History in a Pecan Shell

The county was organized in 1910 and named after Kermit Roosevelt who had been hunting in the area shortly before. Father Theodore was still extremely popular - especially out west.

1910 was also the year the W. H. Seastrunk moved his house into town. It may not seem like a big event to you, but it was to Mr. Seastrunk.

A drought in 1916 created an exodus - if you can apply the term to so few people. By the time 1924 came around, only one family was left in town - living in the Seastrunk house. The entire county had one student attending school in 1924. We have no name, but we can safely assume he or she was at the head of the class.

Kermit's boom occurred in 1926 - the same year as the rise of Wink and Notrees. The population soared to 1,000 people and by the time the Texas-New Mexico Railroad reached the area in 1929 - they were up to 1,500. The oil kept the economy fairly stable during the Great Depression, but although the population declined after the initial boom, it rose again at the end of the 30s.

Kermit got around to incorporating in 1938, and finally got around to opening a bank in 1945. It was reported that after the bank opened, there was a jump in mattress sales.

In the 60s, Kermit reached their high population mark of 10,500.
Historical Marker (Hwy. 302 East City Limit) Text
KERMIT
County Seat of Winkler County. Organized in 1910. Incorporated in 1938. Name for Kermit Roosevelt, son of President Theodore Roosevelt, who had visited a local ranch. One of the top oil and gas producing counties in state. Ranch center. Gateway to New Mexico.
(1964)
Kermit Landmarks / Attractions
The Medallion Home
Recorded Texas Historic Landmark
Pioneer Park, Tommy Thompson Rd.
Photo courtesy Barclay Gibson, February 2010
The Seastrunk/ Baird House (c. 1907) in Pioneer Park (adjoining Winkler County Park) - Oldest structure in Kermit - originally built five miles south, dismantled and moved into town in 1910.

(1964) Historical Marker Text :
Kermit's Oldest Home
Built by county clerk, 1910. (year Winkler County was organized). Owned by Mosleys Bairds.
More Texas Historic Homes
The Five-Panel Mural
Artist: Alice Leese
Mural showing downtown & water towers
Photo courtesy Barclay Gibson, February 2010
The Kermit Elementary School is a nice example of a public building in the Mission Revival Style. It is currently vacant and the City of Kermit would like to use it as a community building of some sort since its beautiful tile floors and wooden stage offer several possible uses.

The school district also wants to see the building put to use, but since asbestos was used in the construction, the problem is not a lack of cooperation, but how to afford the costly removal.
Old Style Restaurant Sign
Photo courtesy Barclay Gibson, February 2010
Kermit the Frog Water Tower
Photo courtesy Barclay Gibson, February 2010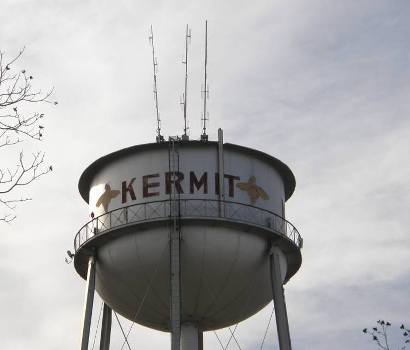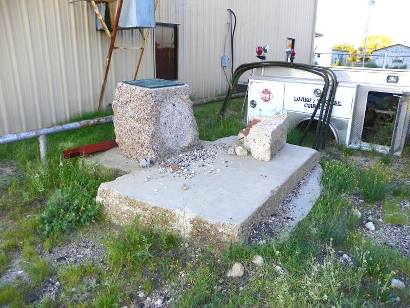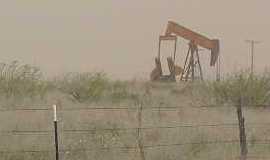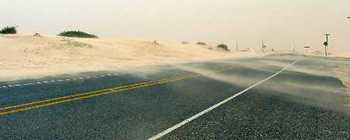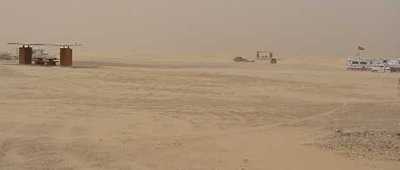 Kermit, Texas Forum
Subject: Kermit Sandhills park is no more
Dear TE, I just wanted to say that the Sandhills Park that used to be 10 miles outside of Kermit is not there anymore. The land [has been] divided up among private owners. It was being overused by people taking dune buggies, 4-wheelers, and dirt bikes out there who were not cleaning up their trash. I think it was the county that decided to shut the park down and put the land up for sale rather than try to limit the usage of offroad vehicles. I have heard that one of the property owners is trying to construct another parking lot on his land and will charge a small fee for people wanting to park and ride out there.

Good news... you can still see the miniature oak trees when driving either between Kermit and Andrews or Kermit and Odessa. - Mark Sessing, October 12, 2006

Our thanks to Carla Neal of the Kermit Chamber of Commerce for answering our questions about Kermit.
---
Texas Escapes, in its purpose to preserve historic, endangered and vanishing Texas, asks that anyone wishing to share their local history and vintage/historic photos, please contact us.
---