Texas | WWII
AVENGER FIELD
AKA Sweetwater Army Airfield
Training facility for
the Women's Airforce Service Pilots (WASPs)
Nolan County
Sweetwater, Texas

I-20 West 6 miles from Sweetwater
to the Texas State Technical College campus
While many of Texas' current municipal airports were postwar gifts to the host communities, the case was reversed in Sweetwater where the existing municipal airport became a training facility in May of 1942.

The transfer was a tremendous help to the war effort since it only required expansion and improvement of the field, which had been in use since the late 1920s. The name was chosen from a contest sponsored by the local newspaper.

Expanded to a total of 920 acres by the city of Sweetwater, the War Department leased it for a token payment of $1.00 per year.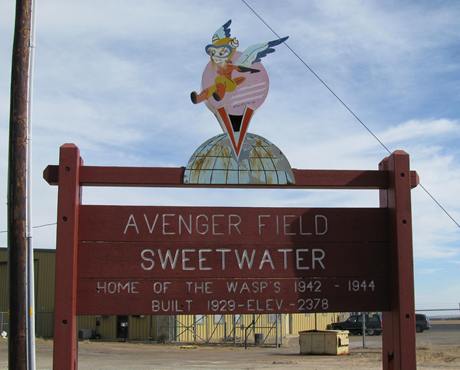 Training the necessary pilots and personnel for a two-theater war was a daunting task and during the first months of the war, instructors were often civilian contractors. This was the case with the first class to graduate from the facility – a single class of British RAF cadets. After that, ten classes of American aviation cadets graduated and then three classes of enlisted student pilots (most pilots were commissioned officers).

The lasting legacy of the field was formed from February 21, 1943 until December 20th, 1944 when the base became the training facility for the Women's Airforce Service Pilots (WASPs).

Licensed female civilian pilots were recruited and trained to fly military aircraft, ferrying them from factory to shipping point and on occasion flying damaged planes back for repair. This enabled more male pilots to be sent into combat.
Women Airforce Service Pilots Historical Marker
Photos courtesy Mike Price, December 2007
Women Airforce Service Pilots Historical Marker Text:
Women Airforce Service Pilots
Jacqueline Cochran, one to the most famous women pilots of the Twentieth Century, persistently lobbied U.S. Army Airforce General Henry "Hap" Arnold to establish a flight training program for women during World War II. Hard-pressed for pilots by mid-summer of 1942, General Arnold requested that Cochran return from England and put her women airforce pilots (WASP) plan into action.

A WASP flight school, opened at Houston's Municipal Airport in late 1942, outgrew its facilities and was relocated to Avenger Field in Sweetwater. The school operated here from February 20, 1943 to December 7, 1944, during which time it became the first and only all-women military flying school in the world.*(See Forum)

The program successfully trained women to fly every kind of overseas duty. Of the 25,000 women who applied for WASP flight training, only 1,830 were accepted to the program. Of this number 1,074 went on to gain their silver wings and fly over 60 million miles on operational duty; 38 of them lost their lives serving their country. Considered civilian employees during the war, WASP pilots finally gained military benefits after special legislation passed in 1977.

(1993)

*Forum:
Subject: corrections
I would like to call your attention to the information on the WASP at Avenger Field. The WASP and the training school at Sweetwater were NOT the first women to be trained as women military pilots. The Russians opened a training school for 400 women combat pilots in October 15, 1941. It was located on the banks of the Vogel River at Engels just north of Stalingrad. Some 1200 women trailed there and fought in three Regiments of Fighter and bomber pilots during WWII. All of these women fougt in actual combat. - Mardell Haskins, Author with Southwest Aviation Report, January 15, 2015
Jacqueline Cochran
The unit was led by aviatrix Jacqueline Cochran, a natural-born pilot who held more speed, distance and altitude records than any other aviator, male or female.

A friend of the soon-to-be-missing Amelia Earhart, Cochran was part of "Wings for Britain" prior to the U.S. entry into WWII. Delivering American aircraft to Britain, she became the first woman to fly a bomber across the Atlantic.

She first worked for the British, her job recruiting qualified U.S. women pilots to fly for the British Air Transport Auxiliary. After the U.S. became a combatant, it was Cochran who proposed a unit of female transport pilots in the U.S.


Howard Hughes Field

Houston's Howard Hughes Field (see the 1940 Houston Air Terminal Museum) had been a WASP training facility, but heavy fogs and civilian air traffic necessitated the move to Sweetwater. Avenger Field trained both men and women for a brief period, but beginning in April of 1943 it was designated the only all-female air base in history (excepting male instructors, maintenance and communication crews).

Avenger graduated 1,074 pilots during its tenure and the pilots learned to fly everything from trainers to the new B-29 Superfortress. In 1945 the field became a training base for P-47 Thunderbolt pilots, the pursuit planes that escorted B-17s over their bombing runs over Germany.

In November 1945 ownership reverted to the City of Sweetwater. It was reopened briefly as an auxiliary field for Big Spring's Webb Air Force Base during the Korean War.
---
Avenger Field
WW II WASP Memorials
"The memorials are located at the airport in a stand alone hanger at the south end of the airport, with the large monument at the TSTC grounds toward the north west part of the field." - Mike Price, photographer, December 08, 2007
Names of WASPs on display
Photos courtesy Mike Price, December 2007
Close-up of statue in preceeding photo.
Photos courtesy Mike Price, December 2007
Inscription: "To the best women pilots in the world."
- General "Hap" Arnold
Photos courtesy Mike Price, December 2007
Museum Sign showing the wings wore by WASPs
Photos courtesy Mike Price, December 2007
Photographers' Notes:
Subject: Sweetwater WW II WASP Memorials
The Women Airforce Service Pilots (WASP) were a little known group of female pilots who performed many duties short of combat during WW II. Their story makes pretty good reading for those interested in WW II. All were trained at Avenger Field in Sweetwater.

While the army was forming the 509'th group (to deliver the atomic bombs) the men pilots did not want to fly the large and complicated B-29 which had a reputation for problems. The commanding officer brought in two WASP pilots and in a couple of days trained them to fly that plane and they proceed to shame the men into flying.

The only flying B-29, owned by the CAF in Midland, carries the nose art name of FIFI. - Mike Price, December 08, 2007
3-D Statue of "Fifi" (Finfinella) is in the Nolan County Courthouse lobby. The mascot design was supplied by the Walt Disney Co.
Photos courtesy Mike Price, December 2007
Texas Escapes, in its purpose to preserve historic, endangered and vanishing Texas, asks that anyone wishing to share their local history, stories, and vintage/historic photos, please contact us.
Custom Search