History in a Pecan Shell

The J. B. Baldwin family of Marshall is said to be the source of the name. The community was granted a post office in 1902 although it was shuttered by 1915.

The 1914 population was given as 350. The community was served by two general stores and had a cotton gin as well as two sawmills.

By the worst days of the Great Depression, Baldwin's population had plummeted to a mere 25 citizens served by a single store.

The site today shows widely dispersed houses with no town center.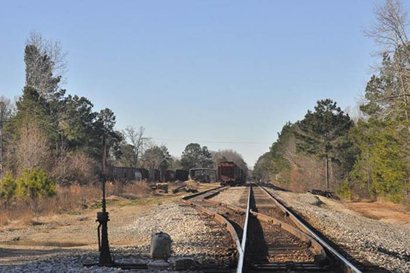 A Visit to Baldwin Texas
Photographer's Note
Baldwin is an unincorporated community in northeast Texas, in Harrison County, on FM-134, about 6-miles west of Karnack, about 9-miles east of Jefferson, serving the rail industry.

Note that there is not even a road sign here. Note also, that it is on several different maps.

The main thing that is here is the Kansas City Southern Rail siding and a few tracks serving the "TNT Railcar Services" facility. There used to be a "Rail Plant" there. They welded up 39-foot joints of rail into quarter mile long lengths of "welded rail" for KCS. It was quite an operation, doing the welding and loading it onto a special train. I used to have to go there all the time for KCS when I was employed with KCS (for 30-years). Also, worked on the special rail train unloading the "welded" rail to be put into service.

Here is the extremely dangerous "S" curve right over the RR tracks. - Gerald Massey, February 2010