KARNACK, TEXAS
Harrison County, East Texas
FM 134 and FM 449 Near Caddo Lake
5 miles S of Uncertain
16 miles NE of Marshall
Population: Est. 775 (2000)

Lady Bird Johnson's childhood home -
Southwest of Karnack (2½ miles) on Highway 43

History in a Pecan Shell
The exotic name is said to have derived from a comparison of distances. Karnack's distance from Port Caddo (Republic of Texas port of entry) was said to be exactly the same as the distance between the Egyptian cities of Karnak and Thebes.

In the late 1890s the community was becoming known for shipping cotton. A Karnack post office opened in 1898 and oilfields around Caddo Lake began producing eight years later.

Karnack's population in 1915 was 100 (no figures available on the population of Karnack, Egypt). A general store, gristmill and cotton gin were in operation at that time.

By 1927 the population had quadrupled to 400 and peaked at 850 in the early 1940s.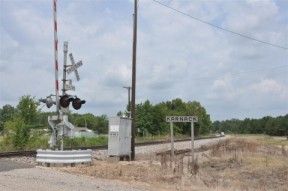 Karnack Texas Topics of Interest:
Lady Bird Johnson's Childhood Home -
Southwest of Karnack (2½ miles) on Highway 43


Oonie Andrews, the ghost who lives in Lady Bird Johnson's family home at Karnack

She is as much a part of the old mansion that Jett Jones, who grew up with Oonie, simply considers her "a lady who lives in the house that nobody else can see."

In 1843, Milt Andrews built a splendid plantation-style mansion near Karnack. Sometime in the l880s, Andrews' 19-year-old daughter, Eunice, sat alone in an upstairs bedroom when bolt of lightning from a stormstruck the chimney, raced down a fireplace, and hit Oonie. She was burned to death.

Over the years, stories arose that the ghost of Miss Andrews never left the bedroom. Eerie noises, odd happenings, and ghostly apparitions soon became common. When the Andrews family sold the house to T.J. Taylor -- Lady Bird Johnson's father -- in 1902, the ghost went along with the sale. While Lady Bird said she never saw or heard the ghost, she admitted feeling a sense of apprehension and unease in the house as a child. - From Ghosts in East Texas by Bob Bowman


Uncertain, Texas, Caddo Lake and Cypress Trees by N. Ray Maxie
Just a mile or more east of Jefferson in far northeast Texas and only a stones throw north of Karnack, is the great mysterious Caddo Lake... more

Karnack, Texas Area Hotels:
Marshall Hotels | Jefferson Hotels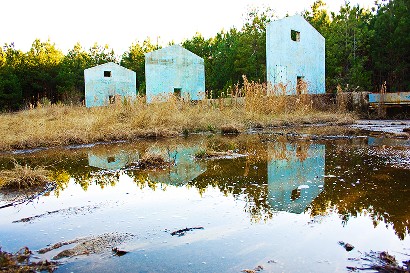 Texas Escapes, in its purpose to preserve historic, endangered and vanishing Texas, asks that anyone wishing to share their local history, stories, and vintage/historic photos of their town, please contact us.

Karnack, Texas Area Hotels:
Marshall Hotels | Jefferson Hotels
Custom Search
Save on Hotels - Expedia Affiliate Network