History in a Pecan Shell
Pineland began in 1902 when it became a stop along the Gulf, Beaumont and Great Northern Railroad. It was primarily a sawmill town and itís original name had been John Adam's Mill. The name change was made in 1904 when a post office was opened.

Expansion came in 1906 when Adamís sawmill was purchased by Garrison Norton Lumber Company and expanded into a corporate operation in 1907. When the new company decided to move, which wouldíve undoubtedly created another East Texas ghost town, one of the company directors (Thomas Temple) took over the timber operation here and built a mill in 1907.

Pinelandís population was almost exclusively tied to the mill. Temple build a commissary and issued tokens to the millís employees.

Pineland grew from an estimated population of 250 in 1914 to an estimated 1,500 by the mid 1920s. The lumber company remains the primary employer for the area and the population has settled in at around 1,000 residents. From 1,100 in the late 1980s, it declined to 882 for the 1990 census but has grown to 980 for the 2000 Census.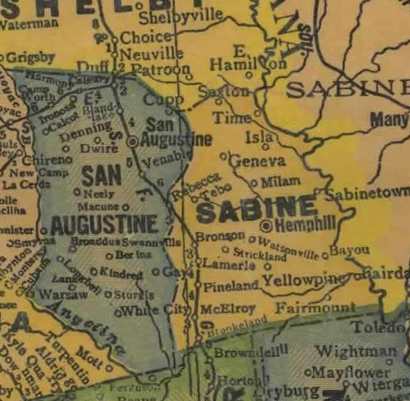 1940s Sabine County Map showing Pineland
(Below "S" in "SABINE" south of Bronson)
Courtesy Texas General Land Office
Pineland, Texas Forum:

"Pineland, Bronson, Rosevine, and several smaller communities make up West Sabine ISD." - Mike Pate, Superintendent, October 14, 2010

Texas Escapes, in its purpose to preserve historic, endangered and vanishing Texas, asks that anyone wishing to share their local history and vintage/historic photos of their town, please contact us.