To Big Thicket National Preserve
Photo courtesy Ken Rudine, August 2007
Saratoga
by Archie P. McDonald, PhD
About fifty years ago, I worked as a "hop boy" on a milk delivery truck that ran the country route for Kelly's Dairy in Beaumont, Texas. Dad was the salesman who drove the truck, so I had a sympathetic boss and could consume all the pint bottles (once upon a time milk came in such), of chocolate milk I wanted. I "wanted" when we served the customers in Saratoga, in Hardin County. The reason: the water smelled highly of sulfur. It really didn't taste bad if you held your nose, but a boy has his foolishness, so I disdained the smelly stuff and succumbed to the seduction of chocolate. Upon reflection, maybe Saratoga's water was just an excuse.

Anyway, that water helped this East Texas community earn its name and gave it unfulfilled notions of becoming a famous health spa like the one in New York from which it borrowed its moniker. J.F. Cotton discovered a spring at the site of this future town in the 1850s. I expect he smelled it before he saw it. In the 1880s, P.S. Watts attempted to capitalize on the water's unique properties. This was a time in which many people placed great faith in hydropathy, or the healing power of water. Watts may not have thought he was dealing with another Lourdres, but he did hope for another Saratoga, as in New York, where the elite retreated to "take the waters," sometimes seeking health and sometimes just enjoying their wealth.


Watts built a hotel and rental cottages and such, and changed the name of the community from New Sour Lake to Saratoga, hoping to attract customers. Not many came, but what made the water smell the way it did eventually brought some measure of riches anyway.

Old Cotton himself attempted to find oil in the area of Saratoga as early as 1865, and others tried again in 1887 and located a small well. Much larger production followed the discovery of Spindletop, about thirty miles south of Saratoga, in 1901. And the arrival of a railroad also enabled the expansion of sawmilling because timber produced there then could reach distant markets.

Saratoga enjoyed a period of some prosperity from oil-and-timber production, but failed to hold its advantage. From a population of 1,000 in 1925, it fell to about 350 in 1950, though lately the number of folks who call Saratoga home has reach about 1,000 again.

Dad sometimes got a sore back from lifting those cases of milk and our family frequently vacationed in Hot Springs, Arkansas, so he could take the famed baths there. He might have been as well off in Saratoga.

Fifty years later, I don't know if the water still smells like sulfur in Saratoga, and even if it does I might not be so persnickety now. On the other hand, chocolate offers a powerful alternative.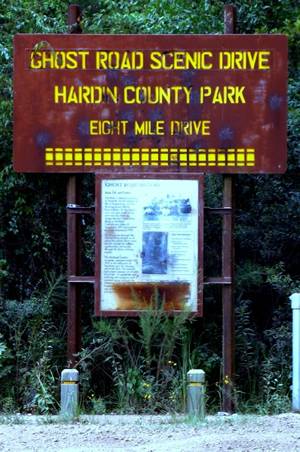 Lance Rosier Historical Marker
Big Thicket National Preserve
Photo courtesy Ken Rudine, August 2007
© Archie P. McDonald, All Things Historical column
Saratoga, Texas Forum:
Subject: Bragg Light Misnomer

Dear TE, I have lived in Saratoga, Texas my entire my life (36 years) and grew up a quarter of a mile from the end of Bragg Road. Everyone who grew up in Saratoga knows [the local mysterious light] it as Bragg Light, not the ghost light, ghost road light, nothing with the name ghost or Saratoga even mentioned in the name. The light is there and it's not swamp gas as other people try to say because there aren't any swamps around Bragg Road. My granddad was born in 1897 and was raised in Saratoga and always talked about the light. So does my dad, who has spent his entire life here (since 1934). People try to write articles about the road and light, that are not from the area and they get so much wrong about it.

Just like it is known that oil was discovered in Saratoga way before Beaumont, but because it wasn't a boom it's not recognized as that. I just wish someone could write a completely accurate article on the Bragg light so it is known that it is there and what it is. My Dad tells me the story of the headless man looking for his head is something that someone from out of town made up and that people that descended from Saratoga never heard of it until they talked to people from other areas.

I apologize if it sounds like I'm "going off" on this subject but as someone who has lived here all my life it's irritating to hear people talk and write about things that they don't completely know about. I have a magazine from years ago that featured Bragg Road and was fairly accurate on the article because they did a lot of research from the people around here before it was published. - Thomas Tomlinson, Saratoga, Texas,, May 03, 2007


I was born and raised in Beaumont and heard many stories about the "ghost" of Saratoga.... A friend of mine once told me that her car was actually attacked and dented by an unseen force when she was in Saratoga. .... On a double-date, I was taken out there late at night, but nothing occurred. ... I would like to know more of the story (legend), whether it be true or not. ... - Thank you, Rhoda W., January 02, 2002
Texas Escapes, in its purpose to preserve historic, endangered and vanishing Texas, asks that anyone wishing to share their local history and vintage/historic photos, please contact us.
Custom Search