---
---
---
Crockett Street
TE photo 9-04
---
---
History in a Seashell

Beaumont dates from 1824 when it was known as Tevis Bluff after Noah and Nancy Tevis - the first settlers. In 1835, Henry Millard and partners bought the Tevis' property for a planed town. Millard's wife's maiden name was Beaumont.

The First Congress of the Republic of Texas granted it a charter in 1838 and Beaumont was designated the county seat for Jefferson County.

By the early 1900s the city had four railroads and a population of 9,427.

The city's history - as well as the State's - is divided by the discovery of oil at nearby Spindletop.

They were only a few days into 1901 when Spindletop blew in - reportedly on the last length of pipe sunk before the well was abandoned.

Three major oil companies - the Texas Company, Gulf Oil and Humble - were formed within a year of one another in 1901-02.

1908: The Neches River was joined to Port Arthur by dredged canal.
1910: Population 20,000
1920: Population 40,000
1925: A second oil discovery was made at Spindletop
1930: population 58,000
1941: Wartime prosperity comes with shipbuilding and increased oil
1943: Martial law is declared after the Beaumont race riot erupts
1950: Population 94,000
1960: Population 119,000
In the early 1960s the police department was reorganized after an investigation by the Texas House of Representatives looking into prostitution and gambling - unsavory residue from the oil boom.
1970: Population 115,000
1980: Population 118,000

Book Hotel Here > Beaumont Hotels
Beaumont, Texas Landmarks / Attractions
Beaumont's pride is demonstrated by its numerous restorations and a vibrant reclamation of the downtown area. The Hotel Beaumont, the Tyrrell Historical Library , the 14 story Art Deco Jefferson County Courthouse, a beautiful Federal Building and the current restoration of the Jefferson Theater and Hotel Beaumont makes this city an example for others.

Parking is not a problem in a downtown that practically shines. Be sure to check out The Kyle Block - one of the best examples of Zig Zag architecture in the state.

Among the city's museums are the John J. French Museum, the Gladys City Boom Town Museum (a full-scale replica of the Spindletop boomtown), the Texas Energy Museum with a large collection of Thos. Edison mementos and the Texas Fire Museum - with an excellent collection of vintage fire-fighting equipment.
View of the entire Kyle Block looking south
TE Photo 5-03
The Jefferson Theater Marquee
TE photo, 2003
Aerial view of the Neches River and downtown Beaumont
Postcard courtesy Cruse Aviation
The Neches River in Beaumont
Postcard courtesy Cruse Aviation
Ships across from Pipkin Park in Beaumont
TE Photo, 2000
Spindle Top Oil Field, Beaumont, Texas
Postcard courtesy rootsweb.com/%7Etxpstcrd/
Spindletop: Selling Wind and Hot Air by Michael Barr ("Texas in Hindsight")
Spindletop: When Oil Became An Industry by Archie P. McDonald, PhD ("All Things Historical")
The Vanishing of Marine Sulphur Queen by Mike Cox ("Texas Tales")
"...So far as is known, the Texas woman was the last person to see the 504-foot, 7,240-ton tanker and her 39-man crew...."

YOCUM'S INN: The Devil's Own Lodging House by W. T. Block, Jr. ("Cannonball's Tales")
Located on the old Opelousas cattle trail northwest of Beaumont.
"A gentleman's life... held no attraction for Squire Yocum, a man who literally was nursed almost from the cradle on murder and rapine, and for many years Yocum's Inn was actually a den of robbers and killers."
A Brief History of Pioneer Entertainment in Beaumont, Texas by W. T. Block, Jr. ("Cannonball's Tales")
Home of the Cardinals by Archie P. McDonald (from "All Things Historical" column).
Lamar University in Beaumont
Dick Dowling by Archie P. McDonald (from "All Things Historical" column). Sabine Pass' commander, Lieutenant Richard William Dowling, namesake of the Dick Dowling Junior High School.
The Case of Beaumont's Missing Marble Corpse by W. T. Block, Jr. ("Cannonball's Tales")
It was July of 1901 in Beaumont, and the frenzy of oil excitement rushed on unabated. Gusher No. 15 had just blown in on the hill, and each arriving train deposited a new horde of traders and roughnecks, boomers and hangers-on of every hue in a city that was already smothering with new population... In the midst of all the oil madness, there emerged one of the strangest tales ever to unfold in the "sawdust city," the case of Beaumont's missing corpse that had turned to stone...
Olive, Hardin County, Texas - An Extinct Sawmill Town and the Olive-Sternenberg Partnership That Built It by W. T. Block, Jr. ("Cannonball's Tales")
"Three miles north of Kountze, in Hardin County, Texas, where once the burly and towering pine trees shaded the forest floors beneath them, the town of Olive thrived between 1881 and 1912. It took its name from Sidney C. Olive of Waco, who was one-half of the partnership of Olive, Sternenberg and Company, the owners of the large Sunset Sawmill, which spawned the community.
In 1876, while Beaumont was celebrating the hundredth anniversary of the United States, the same owners built the Centennial Sawmill on Brake's Bayou, Beaumont's first large lumber mill, and operated it until 1883...."
The Tale of Hardin County's Wild Family by W. T. Block, Jr. ("Cannonball's Tales")
What 'boy' is there among us, either youthful or aged, who has not experienced a longing at some time or another to escape to the forest -- far from the amenities of civilization, such as table manners and school bells -- to live carefree and survive, Tarzan-like, from the products of the thickets and streams?...
"The Boll Weevil" by Mike Cox
One of many long and short lines serving Texas was the Trinity and Brazos Valley Railway, better known in the early 1900s as "The Boll Weevil." With headquarters in Houston, it ran from Cleburne to Beaumont. Chartered in 1902, and later operated for years in receivership, the line became part of the Burlington-Rock Island in 1930.
Snowfall in Galveston by Mike Cox
On Feb. 14, 1895 it snowed 28 inches in Beaumont.

Book Hotel Here > Beaumont Hotels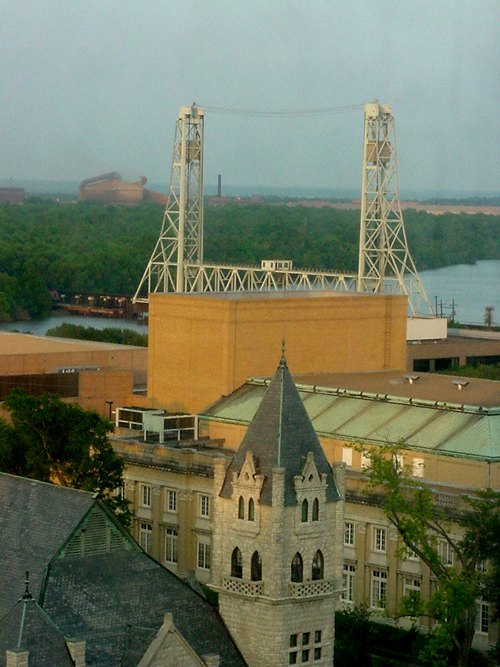 A view of the library, theater and the railroad bridge over the Neches RiverC
TE photo, 2003
Miss Rita of Beaumont's Dixie Hotel by John Troesser
The Philanthropic Madam of Oil City
"Godfather of Beaumont" by Fred B. McKinley
Frank Yount and the Yount-Lee Oil Company, "the Godfather and Financial Gibraltar of Beaumont."
"Babe" Didrikson by Archie P. McDonald
The outstanding woman athlete of the twentieth century.
"The Babe, who earned her nickname from sandlot baseball companions who thought she batted like Babe Ruth, was born in Port Arthur, Texas, on June 26, 1911, to Norwegian immigrants Ole and Hannah Didriksen. The Babe later changed the spelling of the family name slightly. The Didriksen's moved to Beaumont in 1915..." more
Napoleon Bonaparte Wiess by W. T. Block
Steamboat Captain and Confederate Soldier.

Capt. William E. Rogers: Beaumont Steamboatman by W. T. Block, Jr.
Perhaps no one in early Beaumont was as popular and well-known as the steamboat captains, and one of them whose biography comes readily to mind was Capt. W. E. Rogers...
Former slave's death in 1889 attracted rare news coverage by W. T. Block, Jr.
In February 1889, Beaumont Enterprise published an obituary about a Black centenarian, nicknamed "Old Sock," in an age when Black obituaries were usually printed only in Negro newspapers...
The Magnificent Montague by Bill Cherry
His real name is Nathaniel Montague, but probably less than a handful of people know his given name. To the public, he's always been known as The Magnificent Montague. He was born in New Jersey, left there before he graduated from a black military school to travel the seas as a merchant marine. And he got off of his ship in Galveston because he heard there was a disc jockey position open at a Beaumont radio station. He wanted to play music. It was 1954...
Ida Lee by C. F. Eckhardt
On March 21, 1924, Mrs. Ida Lee Daughtery of Hall, Texas, died. She was a woman of some reputation—not as a 'soiled dove,' but as a devoted wife.
Meeting Miss Rita by Frances Giles
My first and only meeting with Mrs. Rita Ainsworth took place on a hot and humid summer day in southeast Texas. Is there any other kind? I was about 14 years old at the time...
The Boys of Summer by Frances Giles
Beaumont had long had different farm teams which groomed players for the big league, and Stuart Stadium was only 3 blocks from our house on Emile Street. In the 1957 season, our neighborhood was drawn into the fringes of the big time...
That's My Mom by Frances Giles
The main sport played by kids in our neighborhood was baseball. I've mentioned before we had an unusually long season, mainly because it stayed warm for so long in Beaumont. The fact is, we just loved the game...
Bandit's bad baby brother by Wanda Orton


Native Sons:
The Big Bopper by Clay Coppedge
The Big Bopper by by Archie P. McDonald
Beaumont Tourist Information
Beaumont Chamber of Commerce
409-838-6581
1110 Park St, Beaumont, TX77701
http://www.bmtcoc.org/
---
Texas Escapes, in its purpose to preserve historic, endangered and vanishing Texas, asks that anyone wishing to share their local history and vintage/historic photos, please contact us.
---