History in a Pecan Shell
Once Trinity County's first county seat, Sumpter was designated such by the Texas State Legislature around 1850. It is said to be named after the town of the same name in Alabama.

Eager to get the new county rolling, a post office was applied for – and granted in late 1851, however the town itself wasn't platted for another four years. The town was incorporated in 1962 with the hope that after the war, it would become a business and railroad center for the region.

After the war, the railroad did arrive as predicted, but bypassed the town. Those who had gambled on the prosperity the railroad would insure – lost. The Trinity County courthouse burned in November of 1872, and without this all-important landmark, the rival town of Trinity became the official county in May of 1873. Sumpter's post office closed the following year.

Things got worse. The timber companies moved out having reduced the forests to an ocean of stumps. What few farmers were in the area were discouraged and left. By the end of 1895 there were hardly enough families to keep the school open.

In time, even the die-hard residents died out or moved, leaving a cemetery and little else. The 1936 Centennial Marker stands as a silent sentinel to what had once been Trinity County's largest city.


Photographer's Note:
"This is just east of Groveton. Nothing left of Sumpter but the cemetery and this marker." - Barclay Gibson, December 2010

See Sumpter Historical Marker
---
Historical Marker Text:
Site of the Town of Sumpter
The legislature of the State of Texas created Trinity County out of Houston County in 1850. A group of seven commissioners was appointed to locate and survey a site for the seat of government. The town of Sumpter was founded in this area, near the geographic center of the county.

Trinity County's first seat of justice grew slowly. Early settler Solomon Adams operated a small general store, and his log home also served as a hotel. The courthouse was a small frame building located on the plaza, near which a log schoolhouse was erected.

When Goodwin Woodson and R.D. Crow opened a saw and grist mill four miles south of Sumpter in 1857, the town began to develop rapidly and was incorporated five years later. As the population increased, a larger courthouse was built. An influx of businesses, such as drugstores and saloons, appeared on around the courthouse square. A number of plantations flourished in the area until the coming of the Civil War.

In 1872, the courthouse at Sumpter burned, and a rail line was built through the town of Trinity. Sumpter was gradually abandoned, and the nearby cemetery is all that remains of the once-thriving community.
1985
---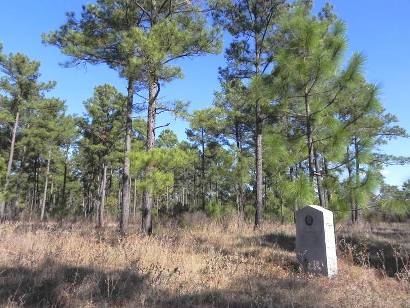 Sumpter Centennial Marker
Photo courtesy Barclay Gibson, December 2010
Centennial Marker: 4.6 miles E of Groveton on US 287
Site of the Town of Sumpter
First County Seat of Trinity County
Land granted in 1850
Town was laid out November 20, 1855
Incorprated 1862
Courthouse and records were destroyed by fire, 1872
In 1873, the county seat was removed to Trinity
"Site of the Town of Sumpter" centennial marker
Photo courtesy Barclay Gibson, December 2010
---
Sumpter Chronicles
Two Courthouse Fires by Bob Bowman

Some of the most delectable historical desserts of East Texas are found in the yellowed documents of the thirty-plus county courthouses scattered across the pineywoods. One such morsel is the little-known story of two courthouse fires in Trinity County, one of the rowdiest of our early counties... more
---
The sign to Sumpter Cemetery
Photo courtesy Barclay Gibson, December 2010
Texas Escapes, in its purpose to preserve historic, endangered and vanishing Texas, asks that anyone wishing to share their local history, stories, landmarks and recent or vintage photos, please contact us.