TRINITY, TEXAS
Former Trinity County Seat
Trinity County, East Texas

30° 56' 44" N, 95° 22' 32" W (30.945556, -95.375556)
State Hwy 19 and Hwy 94 with
FMs 230, 356, and 1617
2 Miles NE of the Trinity River
21 Miles NE of Huntsville
20 Miles SW of Groveton the county seat
Population: 2,750 Est. (2016)
2,697 (2010) 2,721 (2000) 2,648 (1990)

Trinity, Texas Area Hotels › Huntsville Hotels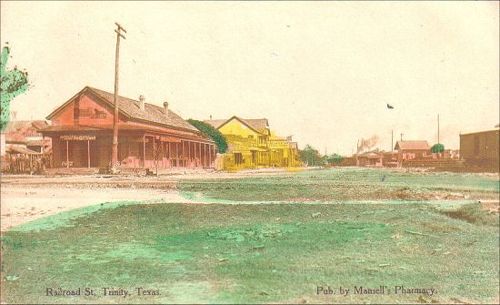 History in a Pecan Shell

An early community known as Kayser's Prairie, occupied the land prior to the 1870s. The town we now know as Trinity became a station on the Houston and Great Northern Railroad in 1872 although it was first Trinity Station and then Trinity City before dropping the extra words.

The railroad increased the population dramatically when it bypassed the county seat (Sumpter, Texas). Trinity became the county seat in May of 1873 although that status was short-lived.

In 1874 Pennington became the county seat, even though Trinity was the county's railroad center and its most populated community. The population reached 900 in the mid 1880s which swelled to 1,200 for the 1890 census.

A fire destroyed 12 houses in 1892 but that doesn't explain the drop in population (just 500 by 1896).

By 1904 it had 850 residents and the town was electrified in 1906.

A second fire in 1909 destroyed the town's business district and a third fire in 1915 (when the population had reached 1,800) caused further damage, but the town rebuilt on each occasion. The population grew slowly, reaching nearly 2,650 in 1990.

Trinity was (after cotton growing declined in the 1920s) a timber center and once had 30 sawmills in operation at its peak.

The Texas Department of Corrections has several prisons in the area.



Trinity Historic Attraction:
Trinity's 1942 Post Office Mural "Lumber Manufacturing"
by Jerry Bywaters
Photo courtesy Marilyn Tomalavage, 2011
---
Texas Escapes, in its purpose to preserve historic, endangered and vanishing Texas, asks that anyone wishing to share their local history, stories, landmarks and vintage/historic photos, please contact us.