---
---
---
When I hear a ghost story from a credible source, I become motivated to validate it. Such was the case with my story and photos of the Saratoga, Texas ghost road light and the Mission, Texas nearby La Lomita Church. Sometimes it takes me years to get around to satisfying my curiosity, but there has always been something unique that occurs when following a previously reported event trail.

My interest was piqued when I read Charley Eckhardt's 2005 story "The Ghost on Milam Street." This story is of the events at a Seguin house near the intersection of Milam and College Streets. The Rudine Team was completing a trip to Utah and had planned a stop in Seguin on our return to Houston. We were going to photograph the cemetery and house described in his story.

We arrived in Seguin about 3PM and checked into a motel, having driven in from Van Horn. We drove on old Hwy 90 east to Milam and turned south to Riverside Cemetery. Suddenly I noticed we were at "the intersection." Per my plan, we continued on to the cemetery.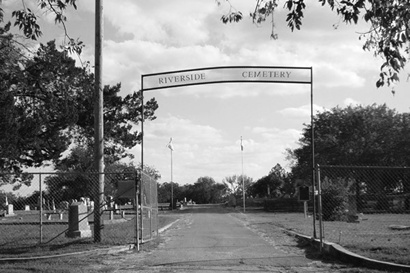 At the cemetery many (if not most) graves were of people who lived their entire lives and died in the 1800's. The grass had been mowed just days before our arrival. Many headstones were unique or had long past designs.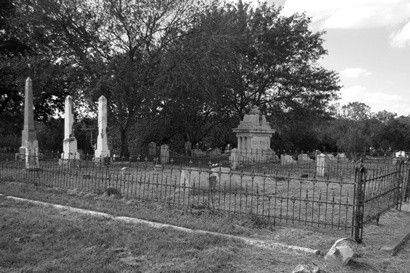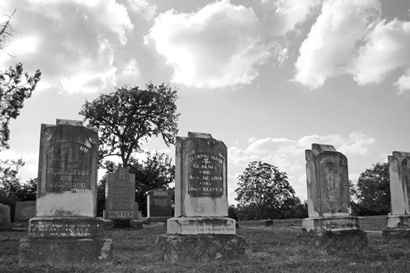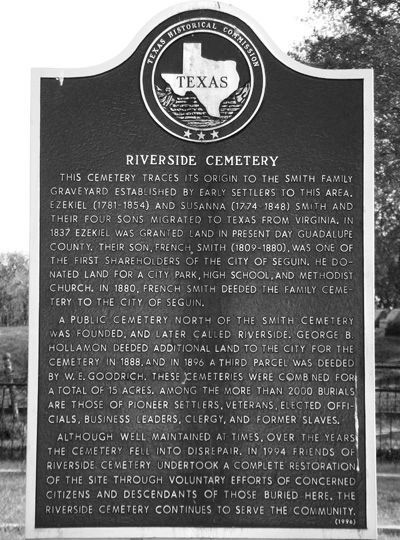 After the cemetery photos, we drove north on Milam to College. It had been sometime since I had read The Ghost on Milam Street story but I was surprised to find a COIN LAUNDRY on the corner, not the house. Confused, I took daylight pictures of every house that could possibly be involved. Sitting in the car afterward, my wife noticed a man was approaching us. I decided to go meet him and introduce myself. Giving him my TE card, I explained what I was doing. He asked, "if he knew me" while saying his name is Brad. Then he said he is a 75-year-old retired mailman from Beeville (who now lives on Milam St., 2nd from the corner). He knew nothing of the event of our interest.

It was suppertime now and we had been out of Texas for 3 weeks and we craved BBQ. We found Davila's on Hwy 90 and enjoyed his delicious mesquite cooked brisket and pork ribs. In business for 50 years, apparently the son now runs this business. Talking with him about our quest, he mentioned that he knows of Charley Eckhardt.

After Seguin became dark we returned to Milam and College to make night photos, which might be revealing. Meanwhile I had re-read the ghost story, but my wife has never read it. When we reached the scene, a parked car caused my wife to park closer to College than before and on the east side of Milam facing "the house". We sat there a few minutes in silence as I observed the coming and going of customers washing and drying clothes. Suddenly my wife said, "That's the house", pointing to the house just east of the laundry. Further she said I'd like to be inside that room behind all that brush or trees on the left. That room with the west wall between 2AM and 5AM, she continued to experience what happens. That agreed with what I had just read in the article, but she was getting this information from her psychic ability.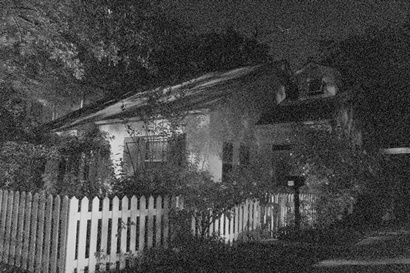 The Headless Walker's path is at the opposite end where bush and tree growth obscure the house.
Photo courtesy Ken Rudine, October 2009
I don't know how to explain or elaborate on the previous sentence, other than to say this is one of her abilities from time to time. Last night for instance, I was silently looking at pictures of us (on my laptop) made on a porch at Marble Canyon, AZ. She was in another room, busy balancing a checkbook and suddenly she started commenting about the very pictures I was looking at. We don't understand it but we have just come to accept it as a gift.

Apparently the house was unoccupied while we were around day or night. There were no lights on and no car in the carport. We made night shots over a period of an hour, trying to capture the scene, appropriately. We did find some unexplainable fuzzy light areas on the roof of one shot. We don't know what that might mean. Whether we believe in ghosts or not we do believe in the unexplainable that most folks call ghosts. After all we did simultaneously experience the "cold spot" at Seul Choix Lighthouse, MI.



October 23, 2009
Copyright Ken Rudine

Visit Seguin, Texas
See The Ghost on Milam Street by Charley Eckhardt
---
---
---