The biggest celebrity to come out of Kerrville is not Johnny Manziel but a trailblazing singer and songwriter who became an American music icon.

Jimmie Rodgers was born on September 8, 1897 in Mississippi or Alabama. At 14 he got a job with the railroad and worked his way up to brakeman - all the while playing his guitar and singing in the evenings.

Then in 1924 Rodgers contracted tuberculosis. The disease sapped his strength and made it hard to hold a steady job.

While looking for work in Asheville, North Carolina, Rodgers heard that the Victor Talking Machine Company would be holding auditions for local musicians across the state line in Tennessee. On a blistering August day in 1927, this frail, unemployed railroad worker walked into a portable recording studio in Bristol and cut loose with a haunting World War I ballad called "The Soldier's Sweetheart." That song rocketed the Singing Brakeman to stardom.
Less than a year later, at the Earle Theater in Washington, D. C., Rodgers sang a blues classic called "Frankie and Johnny" and tore the house down. He returned for 16 curtain calls. By 1930 he was a superstar, selling out venues all over the country and making $100,000 a year. Every village and town in America knew his name, and his music could be heard throughout the English-speaking world.

Rodgers made his mark in country music when the genre was sneezed at by most prominent entertainers, but his recordings of "Blue Yodel" (better known as "T for Texas"), "Waiting for a Train," and "In the Jailhouse Now" sold millions. His fusion of hillbilly, blues, and jazz appealed to a national audience. Among the starry-eyed boys who crowded around the Victrola to hear him sing and yodel were Ernest Tubb, Gene Autry, Hank Snow, Roy Acuff, Tex Ritter, and Hank Williams. His music inspired Muddy Waters, Chuck Berry, Little Richard, and Elvis Presley.

In 1929 Rodgers traveled to Texas looking for a warm, dry climate that might extend his life. That spring he arrived in Kerrville - the home of his business manager Dick Jarrard. Rodgers took a fancy to Kerrville. He and his family rented a house on Earl Garrett Street while he built his dream house, "Blue Yodeler's Paradise," on top of a hill at 617 Main Street.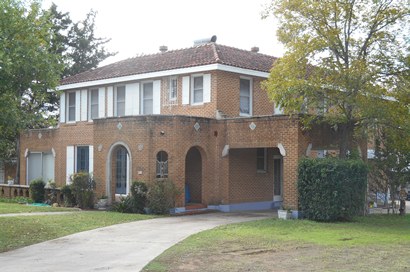 Blue Yodeler's Paradise
Photo courtesy Michael Barr
Many of Rodgers' Hill Country neighbors got to hear him live for the first time on his 1930 Coast to Coast Tour. He played the Majestic Theater in San Antonio (January 9), the Palace Theater in Fredericksburg (January 28), the BurnTex Theater in Burnet (February 3), the LanTex Theater in Llano (February 4 and 5), the Schwethelm Theater in Comfort (March 2), and the Ritz Theater in San Saba (March 7 and 8).

But each year tuberculosis robbed him of his vitality and his resources. In 1931 he sold "Blue Yodeler's Paradise" to pay his medical bills and moved to an apartment in San Antonio.

As his disease got the better of him, his voice grew sadder by the day. Then in 1933, rail thin, bone-tired, and road weary, Rodgers traveled to New York to make ten new Victor records. He recorded his last song on May 24. Two days later he died in his room at the Taft Hotel on 51st Street in New York. He was 35 years old.

Jimmie Rodgers is the only artist inducted into the Country Music Hall of Fame, Rock and Roll Hall of Fame, and Blues Hall of Fame.

As for Johnny Manziel and the Hall of Fame, the jury is still out.


© Michael Barr
"Hindsights by Michael Barr" December 1, 2015 Column
Sources:
Kerrville Mountain Sun, April 25, 1929, "Famous Singer to Make Home in Kerrville," p.1.
Kerrville Mountain Sun, February 27, 1930, p.8.
Kerrville Sun Times, September 5, 1929, p.1.
San Saba News, March 6, 1930, p.3.
The Burnet Bulletin, January 30, 1930, p.1.
Llano News, February 6, 1930, p.1.
Fredericksburg Standard, January 25, 1930, p.1.

More Music | People |
Related Topics:
Columns
Texas Towns
Texas Counties
Texas
Books by Michael Barr - Order Here:
Custom Search