Uncertain, Texas,
Caddo Lake
and Cypress Trees

by N. Ray Maxie
Just a mile or more east of Jefferson in far northeast Texas and only a stones throw north of Karnack, is the great mysterious Caddo Lake. The lake lies between Marion and Harrison counties and extends across the state line into Louisiana. It and adjoining Caddo Parish Louisiana was named after the Caddo Indians that once inhabited the area many, many years ago. UNCERTAIN, TEXAS, is on the south side of the lake in Harrison County near Caddo Lake State Park. That park is really very pretty and has a super convenient boat launch there.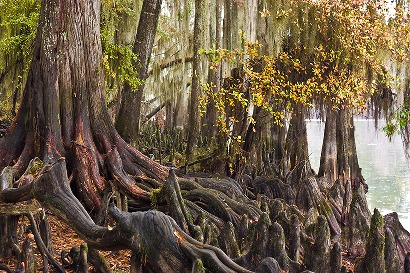 Caddo is a very unique lake in that it has an abundance of shallow water with great cypress trees growing both along the shore as well as in the shallow water swamps. These cypress trees produce many little "cypress knees" (a stump like sprout growing from the roots of those trees). The "knees" are prevalent around under the trees and in the shallow water. The cypress tree has a very pretty bark on it. But, in my humble opinion, the prettiest southern symbol radiating from those cypress trees, is the long, thick Spanish moss streaming down from the limbs. Just picture in your mind, the large cotton plantations in Southern Louisiana and Mississippi with all their symbolic moss filled cypress trees. Then place those beautiful moss-laden trees in and around a scenic lake and you have Caddo Lake. The Louisiana side of Caddo Lake has the deepest water and the Texas (shallow water) side has more of the beautiful trees. A great amount of waterfowl, large and small can be found around the lake most any time of the year.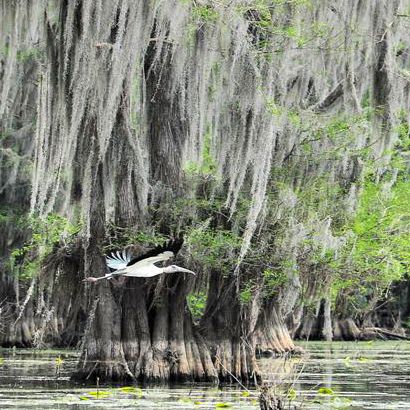 "The prettiest southern symbol radiating from those cypress trees, is the long, thick Spanish moss streaming down from the limbs." - by N. Ray Maxie
Photo courtesy Gerald Massey, 2010
Oil City, Louisiana, is on the East End of Caddo Lake and as a young lad growing up in deep northeast Texas, I had a great uncle who lived in Oil City. He was a very good commercial fisherman. He and my father fished the deep water Louisiana side of the lake quiet often. Now just take a guess. Who sometimes would accompany them? Yes, they have frequently frightened two years of growth out of ME on that lake. That was back long before unsinkable aluminum boats and the strict enforcement of wearing life jackets. Uncle Frank, in his quest to catch lots of marketable fish, used the large hoop nets. They worked well in the deep water. The hoops were about four feet in diameter with netting stretched over them. The length of those nets was maybe fifty to 100 feet, with many hoops. They were pretty heavy, especially when loaded with fish. Frank and Pop usually harvested the fish from those nets in late evening and early night, after they both had put in a hard day at work. Using a semi V-bottom 16 foot aluminum boat, they would pull each section of the net up along side the boat and flop it over just inside the front of the boat, unloading all the "keeper" fish from the net. This, combined with their body weight on that side of the boat, caused the boat to dip very low near the water's surface. As a highly frightened kid, I just knew that boat would tip over and be swamped with water and sink, drowning us all right then and there. Of course, thankfully that never happened. Only caused me to have bad dreams and reinforced my deep fear of water. My mother always advised us kids to never go near the water until we learned to swim. So, to this day, you know I'm still not a very good swimmer.
This mysterious lake is said to have been caused by a large sinkhole appearing there in the ground over night many years ago. You've seen sinkholes. Probably not of this magnitude, where the surface of the earth sinks to fill a void space deep underneath. Then it filled quickly with water. Can you imagine a sinkhole so large as to cover thousands of acres in two states? It is a very interesting phenomenon and is best seen from a boat with a lake guide. The main river flowing into the lake from Texas is named, what else? The Cypress River. Color of the water is "dark tea", caused by all the cypress trees.

Now giging is not really fishing. Only another easy technique to land a fish. Not legal in all places, my dad taught me how to gig those fish in the shallow waters of Caddo Lake. A gig is a fork like spear with barbs on each prong. It is mounted on the end of a long and strong (maybe hickory) handle, longer than a shovel or rake handle. It is most used at night from a small boat or while walking along the waters edge. A good strong headlight or flashlight is needed. As you search near the water's edge for a large catfish, grennal, pike or buffalo fish feeding or lurking there, hold the light on the fish and spear it quickly with the gig. You have to be fast with that gig or the fish will see your movement and be gone in a flash. Do try giging if you ever get a chance. It is tremendous fun and exciting to get a large fish on the end of that gig pole, flopping and thrashing in the water.

Yes, all these experiences were a lot fun. A part of my growing up in deep East Texas. I must admit that the dressing (cleaning) of the catch isn't all that much fun. But Uncle Frank always said we have to take the chafe along with the wheat. Often, when you try to give people some fresh fish, they will ask, "Are they cleaned?" Say what ! ! ? ? Do you want me to cook them for you, too? But then, when you sit down to a great family meal of your own catch prepared to your liking, with all the trimmings, then that's what makes it all worth while. My dad, who really became a much, much wiser man, as I grew older, once told me. "Catch a fish for a friend and you will feed him one meal. Teach him how to fish and he will feed himself for a lifetime."

Well, I must assure you, I do like the outdoor experiences of Caddo Lake. Camping out and cooking out. I do like deep fried catfish, hush puppies, fries, onion and cold slaw, with my favorite beverage.

As a friend of mine told me recently, "You might be a redneck if the only kind of seafood you like is catfish."


© N. Ray Maxie
piddlinacres@consolidated.net
"Ramblin' Ray" April 20 , 2005 column