Photo courtesy Graceful Ghost Steamboat Co.
Uncertain, Texas History in a Pecan Shell
With a name like Uncertain - it's appropriate that even the origin of the name is unclear. Two stories are offered in the Handbook of Texas and one is as good as the other. One is the "uncertainty" of the residents as to whether they belonged to the U. S. or the Republic of Texas since the boundary is formed by the lake. The other story is said to come from riverboat crews who never certain if their boats were firmly anchored. This story has credit since the town was once known as "Uncertain Landing." A third story claims that the difficulty of mapping the region left surveyors "uncertain."

The community has always had strong economic ties to the outdoor activities. As early as 1900 a "rod and gun" club was in operation - known as the Uncertain Club. The logging of cypress trees and the fishing kept Uncertain's economy afloat through the 40s and tourism has been the mainstay ever since.

In 1961 the town incorporated to allow the sale of alcohol. Most Uncertainites operated tourist-related businesses. In 1988 the estimated population was 189 which has declined to the figure above.


Uncertain, Texas Attractions:
Most of the Caddo Lake shore resorts are within Uncertain city limits.
Caddo Lake Swamps/Wildlife & Uncertain
Photographer's Note:
On Uncertain - "There have been quite a number of movies made here, most of them by Walt Disney. Note that this area is known world wide. At noon today I went to the Shady Glade Café in Uncertain and had a sandwich. There were three photographers from England. They were getting ready to take a boat tour of the area. The manger at the Café had a register that visitors sign. He said people have come from Japan, Russia, many countries in Europe. Shady Glade is a unique place as it is a marina, a small motel and other items. This is where the Paddle-Wheel boat operates out of." - Gerald Massey, August 11, 2011


Caddo Lake by Bob Bowman
"... If anyone ever asks me to pick the lake I like most, Caddo Lake would be high on my list, largely because its mystical nature is captivating... Caddo Lake is actually a state park with 2.5 miles of hiking trails that wind around a handful of small communities, including Uncertain..." more


Uncertain, Texas, Caddo Lake and Cypress Trees by Nolan Maxie
A personal look at the region

Uncertain Area Hotels, Book Here > Marshall Hotels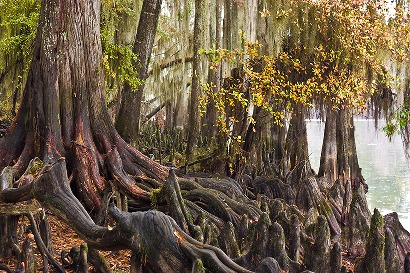 Caddo Lake, Swamps, Wildlife & Uncertain
"The lake is rich in wildlife. The lake's alligators are shy, but if you look closely you'll find them swimming lazily between the cypress trees, sometimes with birds riding on their backs. You'll also find opossums, all kind of snakes and scorpions, egrets, blue herons, beavers, deer, raccoons, bobcats and coyotes. And in the trees, barred owls seem to call out with a low-pitched sound that sounds like, "Who cooks for you?" The cypress trees are home to a Spanish moss..."
- From Caddo Lake by Bob Bowman
Uncertain - Caddo Lake Tourist Information
Photo courtesy Gerald Massey, 2010
Getting ready for the "Annual Floating Christmas Parade"
First Sunday in December
Photo courtesy Gerald Massey, 2010
Texas Escapes, in its purpose to preserve historic, endangered and vanishing Texas, asks that anyone wishing to share their local history and vintage/historic photos, please contact us.
Custom Search