Burnt ruins of The Benton City Institute & Atascosa Lodge.
ON FM 3175 just a little east of the Benton City cemetery.
Built in 1875. In use until 1934
Photo Courtesy Terry Jeanson, February 2010
History in a Pecan Shell

Benton was settled in 1876 and was granted a post office that same year. It has three possible namesakes. The first was Missouri Senator Thomas Hart Benton, the second Samuel L. Benton who served at San Jacinto or possibly one of Samuel Benton's sons. Since the sons inherited land in this area, it was likely one of them.

By 1878 the town had a Masonic lodge, the Benton City institute and its own newspaper. By 1879 residents of Benton attempted to form a separate county, but Medina and Bexar counties weren't willing to contribute any of their land for the experiment.
The town suffered a blow to its collective ego when it was bypassed by the railroad (the International-Great Northern) in 1881.

By the mid 1880s the population was a mere 50 residents. In 1904 it reported just over 300 residents, but ten years later it was down to 200.

In 1904 the Benton school employed two teachers to instruct 75 students. By 1914 there were 104 students, but the high school merged with the Lytle district in 1919.

The population returned to just 50 residents by the mid 1920s. The grammar school closed in the mid 1930s and today the ruins of the Masonic lodge and the city cemetery are all that are left from Benton's "golden age."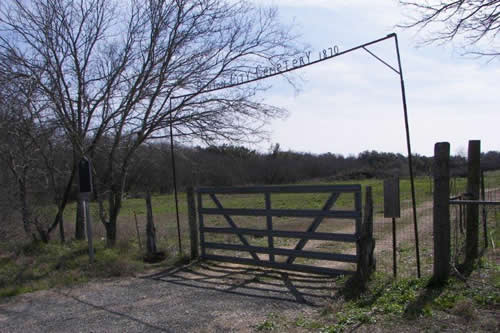 Historical Marker Text
Benton City Cemetery
(Established 1870)

First public cemetery in this community, which was famous in early days for its outstanding school, aggressive businesses, and newspaper, the Benton City "Era."

Site was given by James M. Jones, farmer-livestock raiser and leading citizen, whose rock house stood nearby. Jones and family moved here in 1869, when Atascosa County (with Amphion the county seat) was a frontier region of south Texas.

Interred here are pioneers and veterans of Indian warfare, the Civil War, World War I, World War II, and other conflicts.