A closed gas station
Photo courtesy Ken Rudine, August 2007
History in a Pecan Shell

Papalote is regarded as one of Bee County's oldest communities. Settled on Papalote Creek, the name is believed to either be a Karankawa word for "kite" or a colloquial Mexican-Spanish term for windmill. Like settlers in neighboring San Patricio County, early Papalotians were immigrants from Ireland settling on Spanish grants.

Prior to 1857 the town was actually three separate settlements:

Lower Papalote, a.k.a. Steenville was named after local storekeeper R. W. Steen. This settlement had the advantage of having the post office.

Central Papalote, a.k.a. Cravensville developed around a lumberyard run by Felix Hart and named to honor a local family with the surname Craven.

Upper Papalote, a.k.a. Murdock Place had another store run by a man named Luke Hart. This settlement was on the south side of the creek.

By the mid-1880s the three Papalote communities united.

Merging benefited all and by 1872 Papalote had a doctor, grist mill, butcher, sadler, and several saloons.

The railroad (the San Antonio and Aransas Pass) arrived in 1886 and laid tracks on land donated by a local named Hatch. He also sold land to the German-American Land Company who resold it to settlers from Iowa and Hawaii (!) in five acre tracts. Intended to be orange groves, hopes were dashed when a freeze devastated the crop.

1910 brought a small land boom and a few more businesses, but the hurricane of 1919 was another discouragement. From a population of 52 in 1890, Papalote blossomed to 134 residents in 1904 which declined in the thirties. It has since risen to 70 residents - a number it has used since the late 1960s.

The detailed TxDoT County map for Bee County shows a cemetery on the south side of Papalote Creek (Upper Papalote).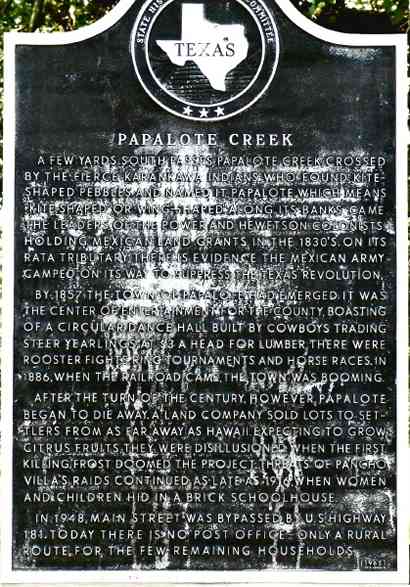 Papalote Creek Historical Marker
US 181 roadside park, 20 miles SE of Beeville
Photo courtesy Ken Rudine, August 2007
Historical Marker
Papalote Creek
A few yards south passes Papalote Creek, crossed by the fierce Karankawa Indians who found kite-shaped pebbles and named it Papalote, which means "kite-shaped" or "wing-shaped". Along its banks came the leaders of the Power and Hewetson colonists, holding Mexican land grants in the 1830's. On its Rata tributary there is evidence the Mexican Army camped on its way to suppress the Texas Revolution.

By 1857 the town of Papalote had emerged. It was the center of entertainment for the county, boasting of a circular dance hall built by cowboys trading steer yearlings at $3 a head for lumber. There were rooster fights, ring tournaments and horse races. In 1886, when the railroad came, the town was booming.

After the turn of the century, however, Papalote began to die away. A land company sold lots to settlers from as far away as Hawaii. Expecting to grow citurs fruits, they were disillusioned when the first killing frost doomed the project. Threats of Pancho Villa's raids continued as late as 1916, when women and children hid in a brick schoolhouse.

In 1948, Main Street was bypassed by U.S. Highway 181. Today there is no post office--only a rural route for the few remaining households.
(1965)
---
Texas Escapes, in its purpose to preserve historic, endangered and vanishing Texas, asks that anyone wishing to share their local history and vintage/historic photos, please contact us.