---
---
---
---
The Hext Post Office
TE Photo, 2000
History in a Pecan Shell

According to the Handbook of Texas - Hext was settled in the 1870s and was known by the name Maringo or Merrengo. It was renamed in the 1890s for one Joseph Robert Hext. The post office was established in 1897 which made the name permanent.

Hext hit its high-water mark about 1914 when it reportedly had 125 people, a cotton gin, a hotel and two general stores. The estimated population was 40 in the mid-20s and after WWII it rose to about 60 where it remains today.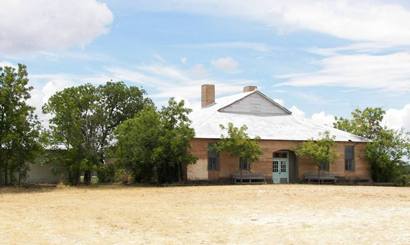 ---
Letters from Descendants

I was very pleased to see the site about Hext, Texas, named after my Great Grandfather Joseph Robert Hext.

Most people knew him as Bob. He was born Aug. 31 1859 near Cherokee Texas to Joseph Bruten Hext and Sarah Ann Salyer Hext. Joseph Bruten was born in South Carolina and moved to Texas in 1844.

At the time Bob was born the Indians were still quite a problem and several skirmishes with raiding parties took place around the area. This problem continued until into the 1870's.

Bob and his brother James moved to start up ranching some twenty mile north of Loundon Texas some time in the late 1880's and family history claims they had quite a large bit of land. Within a few years the partnership dissolved and James "Jim" moved his family to Oklahoma.

My Grandfather, Ben Hext, was born in Hext in August of 1895. His stories often told of how Bob gave away or traded large pieces of his ranch either because of his inability to care for it or through great generosity. We like to believe the generosity story. After his wife, Leetie Anderson, died in 1926 he lived with Ben and his wife Ruth Turner Hext and my father, Joe, in Eldorado, TX. until his death in 1941. He is buried in Eldorado.

When the area residents decided to try and establish a post office in 1895, they found the name Maringo was already taken and decided to use the name Hext either to honor one of the first settlers in the area or because the name Hext was surly not in use elsewhere.

I think that my grandfather, Ben, who was also a rancher, often lamented about "loosing" so much land before he had grown up enough to take over the cattle business. My family often visited the little town in the late 50's as some of the family still lived there and it was by then almost a ghost town, having only 30 or so in population.

Thank you for the site and I hope this background can be of help. -
Bryan Hext, December 17, 2002
---
Hext Under Three Names
1939 Menard News and Messenger newspaper article
---
Hext, Texas, AKA Peg Leg Pocket, Wagoner Ville
I've enjoyed viewing your Texas Escapes site and want to say thank you for your hard work.

As a historian/genealogist in the Menard County area, I have always been interested in the earlier days of Hext. In the mid 70's, I was told by life-long Hext resident, Myrtle (Wagoner) Pope, born in 1901, that Hext used to be called Wagonerville, because her father, George H. Wagoner had the first house/store there. (George H. Wagoner's 1956 obituary also reported this, saying he arrived in the area around 1899.)

I recently located the attached 1939 Menard News and Messenger newspaper article that seems to back up this information, though the article says the store owner was Lee Wagoner.

The newspaper's addition of the 1st name as "Peg-Leg Pocket" could be possible since the Peg Leg stage crossing was right outside of present day Hext.

I thought you might find this as interesting as I do. - Regards, Alicia Brown, June 03, 2011
---
"Grandad's House" - 1973 photo courtesy Helen Bethel Williams
Subject: Hext, Texas
I enjoyed seeing the picture of the school that I attended briefly in 1938. At that time it was heated by wood stoves in the class rooms and had outdoor "privies" (one for boys and one for girls). We played on the cords of wood that were stacked across the back of the play ground that were used for heating the schools.

I also attended the church with my grandfather, Maywood Bethel. It was much more rustic at that time.

My grandfather moved his gin to Hext in 1920 from Ten Mile Crossing in Menard County where he had operated it since 1904. The first ginning season that it was operational at Hext was 1921. The gin burned in the early 1930's and my grandfather operated a metal shop thereafter until about 1950. I am enclosing a picture of the shop that is still in Hext but has been padlocked since he died so is just as he left it. Also a picture of his house that he built himself but has now fallen into ruin. These pictures date from about 1973.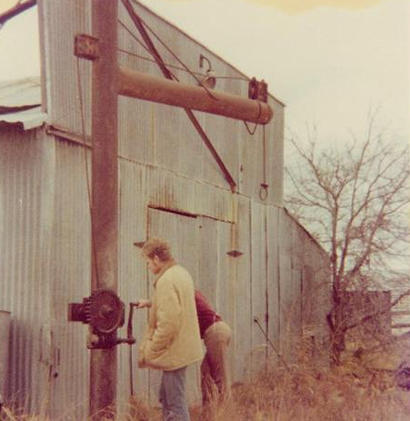 "Grandad's Tin Shop" - 1973 photo courtesy Helen Bethel Williams
Besides my grandfather other Bethel family members were Brooks, Carroll, Sarah and Beth called "Girlie", the three older sons, Lenson, Ion and Milligan, were away at school before the move was made from the original site of the gin. My father was Milligan also known as "Jiggs."

Other family members in the area were the Westbrooks. My grandfather's uncle, Barney McGill (Uncle Gillie) Westbrook lived just to the south of the site of the gin and farmed and his son, Barney Westbrook lived just to the west of the site of the metal shop. Barney Westbrook and his wife, Ethel, had a store, ran the post office and lived on the premises. - Helen Bethel Williams, December 21, 2010
---
---
---
---