---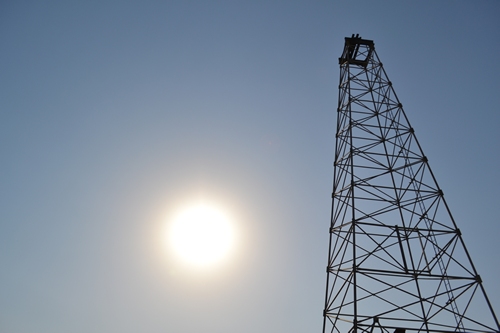 Texon is located about 3 /10 mile south of Hwy 67 on FM 1657. Here you'll see a derrick and the well-preserved remains of Santa Rita #1, the well that brought in the huge Big Lake Oilfield. Historical marker provides details.

There are two "ghost towns" in Reagan County. Texon has the greater population. The other is Stiles, with only the ruins of the torched former courthouse (Christmas Eve 1999).

Texon was a planned community that at one time had a population of over 1000. The Big Lake Oil Company was sole owner of the property. Sidewalks, street signs and mailboxes with two or three wooden structures are all that remain. Two homes appear to be occupied and strangely enough, as if anticipating a rebirth, the street signs are new reflective ones, in some cases standing alongside the old wooden ones that they're replacing. The postal service has also installed a new mailbox looking out of place among the five-foot tall weeds.

It's obvious that there is recent activity with the wells. Hoses and wires follow the grid of the former yards where deer and jackrabbits now graze undisturbed and unfrightened by visitors. The abundance of these creatures along with roadrunners, makes Texon a good spot for observing wildlife. Texon is one of the featured ghost towns in T. Lindsay Baker's Ghost Towns of Texas.

See Town of Texon Historical Marker
A house in the old residential area
"The front half of the building was the Post Office."
TE photo, September 2000
See Texas Post Offices
---
Historical Marker:
Town of Texon
Early travelers along many historic trails in this area found the region arid and inhospitable. Given (1876) to the University of Texas, the lands around this marker were leased to cattlemen. The Kansas City, Mexico & Orient Railroad built its line here in 1911, but did little local hauling. Development came after Frank Pickrell and Haymon Krupp of Texon Oil and Land Company drilled for oil. Their driller, Carl Cromwell, brought in Santa Rita No. 1, the first gusher in the Permian Basin, on May 28, 1923.

Texon, first company town in the Permian Basin, was founded in 1924 by Big Lake Oil Company. Levi Smith, president of the firm, planned and supervised building of the town, and Ted Williams served as city manager for the company. Texon had stores, shops, a school, a physician, a dentist, a hospital, a theater, a park, a well-known baseball team, and many facilities for recreation. The post office opened in 1926. As many as 2,000 people lived here -- boosters claimed up to 10,000 -- manning the drilling, a gasoline plant, an oil treating plant, and other operations. Plymouth Oil Company absorbed Big Lake Oil Company, then sold out to Marathon Oil Company. The company town was closed in 1962.
1977
---
Santa Rita #1
TE photo, September 2000
Historical Marker:
Santa Rita No. 1
Discovery well for Big Lake oil field. First gusher in Permian Basin; first University of Texas producer. On land once thought almost worthless. Fruit of the faith of Big Lake lawyer Rupert Ricker. Though in 1919 no oil had been found within 100 miles, Ricker got leases on 431,360 acres of University of Texas land in Crockett, Irion, Reagan and Upton counties. Soon working with him were P. G. Stokes, Big Spring; Frank Pickrell and Haymon Krupp, El Paso; and others. Their wildcat well, 1/2 mile south of this site, on Ollie Parker's Ranch, was drilled by Carl Cromwell. Dee Locklin was tool dresser. Slow and hard drilling made crew name well for Santa Rita, Patronness of the Impossible. 4 years, 2 months and a day after permit was filled, and at 3,055 feet, well pressure tossed the rig's bucket high into the air. Santa Rita was a producer, the date was May 28, 1923. This day the Permian Basin, since acclaimed one of the greatest oil regions in the world, had its first big find. Other spectacular fields were to follow. Multi-millions in royalty dollars have since made the University of Texas one of the world's most heavily endowed schools. Original rig that brought in Santa Rita now is on the university campus.
1965
---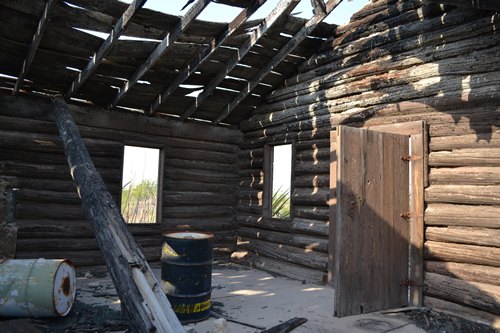 Texon?
Photo courtesy AnnaMarie Adams, April 2011
Texon, Texas Forum
Subject: Texon, Texas
I was born Aug. 25 1944 in the company hospital in Texon. We lived there until 1958, my father got transferred to Andrews, TX. I have many good memories when I lived there. I will always remember the smell of the oil field. The old house that became the post office, we lived in for a short period of time in 1957&58. - James Potter, November 29, 2016


Subject: Texon, Texas--in the '50's
I found your web site on Texas ghost towns and read the comments on Texon, Texas. I am 64 years old and back in the '50's I spent time in Texon with my grandparents when I was around 5 or 6 years old! I have a lot of wonderful memories from that time. My grandfather, Charley O. Fowler worked for Marathon Oil Company and their house sat across the road from the oilfield. I remember asking my grandmother one night what the fire across from the house was and she told me it was on one of the wells. I became very accustomed to the smell of the oil! Every year for many years Texon held a "reunion" for residents and former residents of Texon. It was a grand time! My grandparents' house was sold to someone in San Angelo, Texas and placed out at Lake Nasworthy. I miss those good old days. There's nothing there anymore. I wish the town and the oil business there had lasted. I miss it. - Janis Potter, September 20, 2012


Subject: Born & raised in Texon
I was born and raised in Texon. The old building pictured with the mailboxes in front was actually the Post Office for many years. It was owned by my parents and leased by the Postal Service. The front half of the building was the Post Office. My Mother, Bertha Delz, was the postmaster for many years and retired there. - Ronnie Delz, April 03, 2008
---
Texas Escapes, in its purpose to preserve historic, endangered and vanishing Texas, asks that anyone wishing to share their local history and vintage/historic photos, please contact us.
---
---