History in a Pecan Shell

The community which was once known as Honey Bend now exists only as a cemetery. The town was settled by the 1880s and the name comes from a prominent twist in the Brazos River - an Oxbow lake in-the-making.

The community at its peak was hardly more than a school and church, but they did manage to form a cemetery association in 1932 to maintain the original graveyard.

James James, sometimes known as "Double Jimmy" was a local celebrity and 1812 War Veteran who is interred in the Gooseneck Cemetery.
Tombstone of "Double Jimmy", 1812 War Veteran who lived to be 114 years old.
Photo Courtesy Edwin Verzosa, March 2018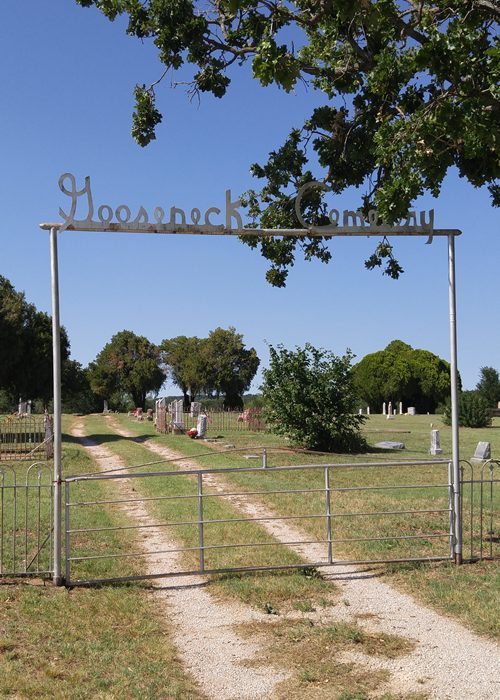 Historical marker (on FM 1287, S of Graham):
Gooseneck Cemetery
Named for a bend in the Brazos River, this cemetery first served pioneers of the Gooseneck community. Land for the burial ground was donated by Kentucky native George Washington Fore (1823-1903) and his son, John Silas Fore (1851-1931), who became a cattleman and sheriff in Wichita County. The property was earlier part of the Brazos River Indian Preserve.

The Fore's also conveyed land for a community school and church. The school remained in operation until 1947, when it merged with the Graham District. The church, originally known as Macedonia Missionary Baptist Church, later became Bunger Baptist Church.

Burials in Gooseneck Cemetery date from shortly after the Civil War. The earliest marked graves are those of F. M. McLaren and Anna Davidson who died in 1876. Others interred here include the site's donor, George Washington Fore, and James James (1764-1878). A native of Virginia and a veteran of the War of 1812, James was 114 years old at the time of his death.

Today Gooseneck Cemetery is an important reminder of a pioneer community. Many descendants of its early settlers continue to maintain the site as a tribute to the area's rich heritage.
1988
Tombstone of Anna Davidson,
one of the earliest marked grave
Photo Courtesy Dustin Martin, March 2018
Gooseneck Cemetery Historical Marker
Photo Courtesy Dustin Martin, May 2017
---