"Roxana Camp Looking South"
Photo courtesy Ken Sharpe
Not shown on TxDoT Map of Carson County


History in a sun-baked, flattened oil can:

In the 1920s the boom town of Roxana was one of the largest oil camps in the Panhandle region. The town was indirectly named. Whoever Roxana was, she was actually the inspiration for the name of one of the many oil companies in the area. It was a Roxana drill that brought in the first producing well in the area, and therefore the camp took the name. Other derricks rose around the original well and when a post office opened in 1927 it appeared that Roxana was going to be on the map.

The oil was plentiful enough for the Panhandle and Santa Fe Railway to complete a branch line from White Deer, but when a depot went in at Skellytown, Roxana's day's were numbered. Even though most of Roxanna's businesses moved to Skellytown, enough residents hung on to keep it alive as a separate community.

When the boom went bust, Roxana was left with ten people. By 1944 the post office closed, although Roxana continued to have a few diehard residents into the 1970s.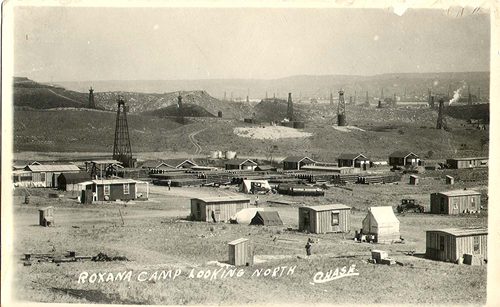 "Roxana Camp Looking North"
Photo courtesy Ken Sharpe
Subject: Roxana, Texas
Dear TE, I just finished reading the article about Roxana, Texas, which was very interesting to me. My father, Charlie Clay Dykes, worked for Skelly Oil Company for many years, and during that time, he purchased the old Roxana post office. I was a small child at the time, and there were only two or three other buildings around the area. We eventually moved the house to Skellytown and added other rooms around the original post office. The old house is still standing even though my father has passed away, and Ann Dykes (mother) has moved into a nursing home. I remember playing our in the back yard one day, and happened onto some old boxes from the post office, and had no idea what they were at the time. Some of my fondest memories of childhood are growing up in the area of the old Roxana Post Office. - Tawanna (Dykes) Sinclair, August 23, 2007

Anyone wishing to share history, stories or photos of Roxana, Texas, please contact us

Area Hotels - Book Here & Save
Amarillo Hotels
More Hotels