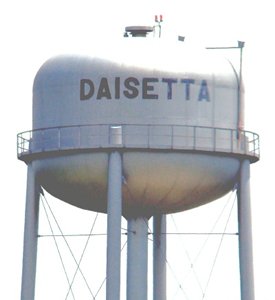 History in a Pecan Shell
The town had been settled as early as the 1850s by lumbermen and farmers, but it wasn't until an oil discovery in 1918 that the town was given its current name. Storeowner Newt Farris is credited with naming the town after two neighbor ladies. Daisy Barrett and Etta White were the honorees. A post office was granted in the early 1920s but a disastrous fire in 1924 set the town back several years. The populace of Daisetta maintained a friendly rivalry with neighboring Hull, Texas, and both towns lived off of revenue from the Hull Oil Field.

From a high-water mark of 3,000 residents, Daisetta dropped to only 1,764 by 1950. By 1990 it was down to 969 has since increased back over the 1,000 mark to 1,034 for the 2000 census.
Texas Escapes, in its purpose to preserve historic, endangered and vanishing Texas, asks that anyone wishing to share their local history, stories, landmarks and recent or vintage photos, please contact us.