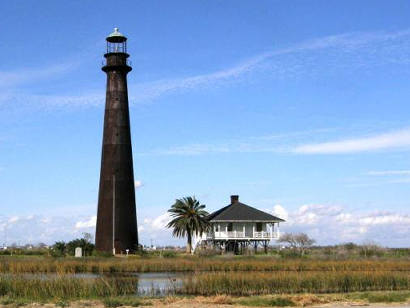 History in a Pecan Shell
Settlers were arriving here as early as 1819. It was the home to James Long and his wife Jane who, during her husband's imprisonment in Mexico was said to be the sole resident here. Accompanied by her maid, she witnessed the freezing of Galveston Bay.

Just after the Texas Revolution, Samuel D. Parr was awarded a land grant and platted a town named Parrsville. A post office was in operation in the 1870s under the name Gabion (no explanation available).

From the mid 1880s through 1892, a post office operated under the name Parrsville. It was renamed Pepper Grove in 1892 and when Parr sold off some of his holdings, another nearby town named Ishmael was laid out.

1893 was the first time Port Bolivar appeared on maps. A townsite company bought nearly 3,000 acres here and when a railroad (The Gulf and Interstate) connected the community to Beaumont in 1896, the name became permanent.

Port Bolivar became one of the first official ports in Texas. The 1915 population was only 100 residents but they enjoyed a colorful lifestyle.

For both the 1880 and 2000 census, the population was given as 1,200.

For detailed history, see:
Bolivar Peninsula: Scene of Slaving, Smuggling, Filibustering and Farms by W.T. Block Jr.
"...While at Bolivar, Mrs. Long gave birth to a second daughter, reputedly the first child of Anglo origin to be born in Texas. Jane's 11-month vigil, awaiting her husband's return, survives as the outstanding act of feminine heroism in early-day Texas." more

Point Bolivar Centennial Marker >

Bolivar Lighthouse:
In 1872, Port Bolivar acquired its most familiar landmark when the lighthouse was completed. And for the next eighty years, its well-known beacon guided thousands of mariners into port in Galveston Bay. In 1952, when better navigational aids were available and its old beacon was obsolete, the Bolivar lighthouse became only one of many Gulf Coast light facilities whose beacons were extinguished for all time. (From Bolivar Peninsula by W.T. Block Jr.)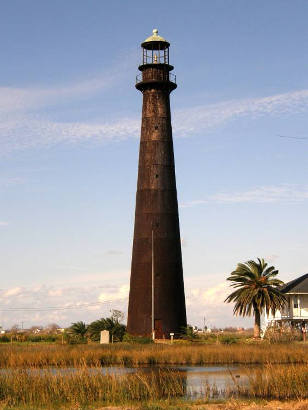 Bolivar Lighthouse & Centennial Marker
Photo courtesy Barclay Gibson, October 2007
Bolivar Lighthouse old postcard
Courtesy rootsweb.com/ %7Etxpstcrd/
Point Bolivar Centennial Marker
Photo courtesy Barclay Gibson, May 2012
1907 Galveston County Postal map showing Port Bolivar
(Under "S" in "GALVESTON")
Courtesy Texas General Land Office
Port Bolivar Chronicles:
Bolivar Peninsula: Scene of Slaving, Smuggling, Filibustering and Farms by W.T. Block Jr.
The Longest Train Ride by C. F. Eckhardt
"Train #1 of the Gulf & Interstate Railroad, which left Beaumont, Texas, at 7:00 AM on September 8, 1900, to make the run to Port Bolivar, about 85 miles away by modern highway, arrived at Port Bolivar at 11:10 AM, September 24, 1903—three years, sixteen days, and ten minutes late. Some of the original passengers were still aboard..."
Custom Search