Photographer's Note:
Situated on the railroad tracks parallel to Hempstead Highway and US290, Satsuma is north of Eldridge and south of Highway 6. I remembered an old railroad building that was about six feet in diameter with SATSUMA painted in black. Upon reaching that stretch of tracks I found it had been removed. - Ken Rudine, May 2010
History in a Pecan Shell
The community dates from 1910 when developer J. T. Thompson platted a townsite alongside the tracks of the Houston and Texas Central Railroad.

Thompson was president of the Satsuma Land Company. The name of the company was taken from (to be installed) satsuma orange groves.

In 1913 C. W. Hahl, a man who envisioned even bigger things, bought the site from Thompson, replatted the town (but kept the beckoning name) and started selling lots.

Buyers were scarce. A post office opened in 1909 but was closed by 1914. The community reportedly had a single store that year – with no population estimates available.

Satsuma did become a shipping point on the railroad, but (according to the Handbook of Texas) "never developed as a town." A Harris County map from the 1980s included the townsite along with a chapel and an abandoned railroad section house.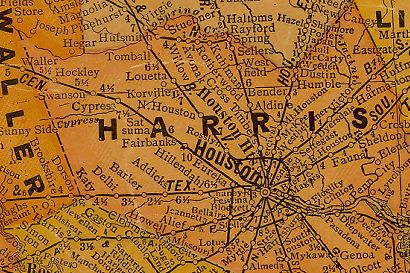 1920s Harris County map showing Satsuma (between 'H' & "A' in 'HARRIS')
Photo courtesy Texas General Land Office
The "Lost" Towns of NW Harris County:
Kohrville | Louetta | North Houston | Satsuma

If these are ghost towns, why are there so many people here?

Although they now only exist as sign names at large intersections (Barker-Cypress, Bammel-North Houston, Aldine-Bender, Alief-Clodine, et. al.). It may surprise non-natives that all of these names once represented once struggling or proudly self-sufficient towns. Even the inside-the-loop street of Crosstimbers was once a separate town.

While most people associate ghost towns with ruins and desolation - these ghosts live among us. Were aisles seven and eight at your local HEB once a syrup mill? Was Radio Shack once a livery stable? Best Buy a cornfield or cotton gin?

Are there unmarked graves under the floor of your favorite Mexican restaurant?

The short answer is this: In many cases these villages were already ghost towns - or so close to being ghost towns that you could hardly tell the difference. Most had their life-blood drained from them after WWII with the migration of rural families to Houston. The phenomenon was statewide. Dallas and Ft. Worth have their fair share of postwar "absorbed" ghost towns - as do smaller cities.

Then "Edge City" happened. The relentless march of strip centers, subdivisions and gated communities overtook these former towns until only the names and cemeteries remained.

While the subject is worthy of further investigation (exactly where is the Lily White cemetery behind Memorial City Shopping Center?), we're happy to include this topic, made possible by generous grant of time, sweat and reseach by the Team Rudine.

- Editor
"15 Minutes of Separation" May 12, 2010 column