One of Stowell's rice elevators
TE photo
History in a Seashell
Named for railroad engineer H. C. Stowell of the Gulf and Interstate Railway - Stowell's history is tied to that of neighboring Winnie. Both experienced the same disasters, discoveries, booms and busts.

The towns first homestead was established in 1894 and the post office opened six years later when Stowell's 176 people made it the largest town in Chambers County.

A hurricane in 1915, a freeze and salt water invading irrigation canals made things tough for the immigrants that had been lured by the agricultural promise of wet and fertile land. Stowell's population dropped to a mere 46 in 1920. The schools of the two towns were consolidated in 1931. Oil was discovered in 1941 and Houston oilman Glen McCarthy opened a gas plant near Winnie.

Stowell had a population of 1,500 in the 1970s and the two towns are now linked by their hosting of the Texas Rice Festival.
Historical Marker - In County Park, LeBlanc & Park St, Winnie
Winnie-Stowell
Winnie and Stowell are two communities in northeastern Chambers County that were founded in the mid-1890s on the Gulf & Interstate Railway. The towns share a common economic history and cultural heritage and often are referred to simply as Winnie-Stowell.

The town of Winnie was organized by the Winnie Loan and Improvement Co., a corporation based in Galveston that promoted settlement in the townsite. A school and bank were in operation by 1910, and Winnie became the retail center for the surrounding area.

Early settlers in Stowell included the W. W. Gregory and Spencer families and F. W. Schwettman. In 1899 Schwettman helped build the Farmers Canal, which served the area's irrigation needs. The canal proved very successful until a 1915 storm ruined it and most of the surrounding rice fields. During the 20th century irrigation systems improved, which allowed for the successful commercial development of orange, fig, and rice production in the area.

In 1931 the school systems of Winnie and Stowell were combined into one district. This system, along with the establishment of Winnie-Stowell Park in 1957, has provided the two towns with shared interests that have brought them together over the years.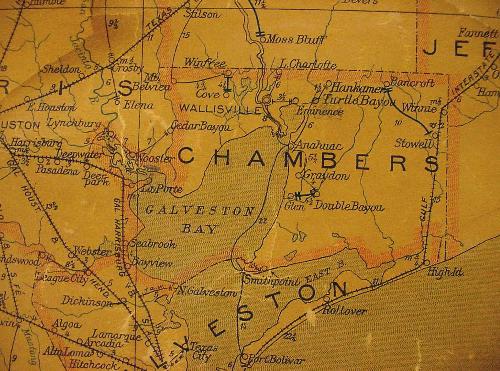 1907 Chambers County Postal Map showing Stowell
(Above "S" in "C-H-A-M-B-E-R-S")
Courtesy Texas General Land Office
Texas Escapes, in its purpose to preserve historic, endangered and vanishing Texas, asks that anyone wishing to share their local history and vintage/historic photos of their town, please contact us.