History in an Oil Can
Once known as Ingerton, Texas, the site was near a school on the Yake Ranch. In the 1920s an oil camp set up here along the tracks of the Chicago, Rock Island and Gulf Railway.

Despite its unimaginative name, the town had every intention of thriving. A new school was built, a depot was added and more importantly, a post office was granted in 1927.

But even with a railroad connection, the writing was on the wall. The post office closed its doors when the paint was barely dry (1929). The school managed to stay open until after WWII when it merged with schools in Stinnett.

As the Great Depression was winding down Oil City was too. In 1940 there were only 40 Oil Citizens served by a single business. The railroad was abandoned in 1972 and by then nearby Sanford and Stinnett offered work (and companionship).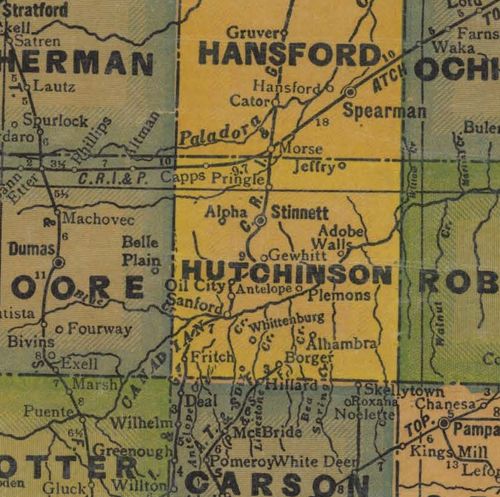 Texas Escapes, in its purpose to preserve historic, endangered and vanishing Texas, asks that anyone wishing to share their local history, stories, landmarks and recent or vintage photos, please contact us.