Shamrock, Texas Topics of Interest
History in a Pecan Shell
An immigrant shepherd applied for a post office in 1890, requesting the name Shamrock for his post office/ dugout home. Settlement began with the arrival of The Chicago, Rock Island and Gulf Railway in 1902. The town lost the name for a brief period when a new post office was opened, but the railroad had named the stop Shamrock and the old name went back into use. Maybe it was Irish luck.

The towns of Story and Benonine moved to Shamrock for the railroad link - adding two more casualties to the long list of dissolved towns.

Shamrock was incorporated in 1911. The population had grown to 2,500 by 1925 and when oil was discovered in 1926, the population nearly doubled by 1930. The Wheeler County Texan, once published at Story, Texas evolved into the Shamrock Texan in 1928.

A second boom was experienced with the completion of "Route" 66 - but the town was bypassed by the improved Interstate 40.


Shamrock Attractions
Shamrock holds a St. Patrick's Day celebration each year.

Pioneer West Museum: In the old Reynolds Hotel 204 N. Madden Street

A fragment of the famous Irish Blarney Stone is in Elmore Park.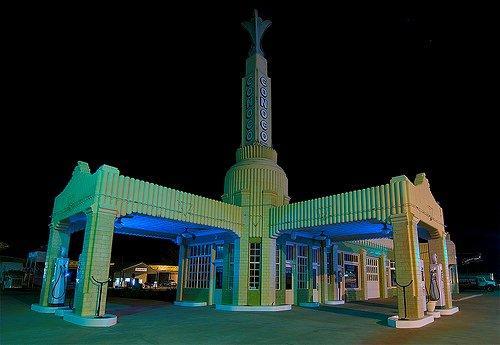 "The beautiful Tower Conoco station in Shamrock, Texas. This station was used as the inspiration for "Ramone's Body Shop" in the Disney/Pixar movie 'Cars'". - Noel Kerns , January 2008 photo
Shamrock Chronicles
Shamrock Cemetery & The Wild Bunch
"In the Byler plot in the Shamrock cemetery there's an unmarked grave--at least it was still unmarked the last time I was there. It contains Viana (or Vivian, there seems to be some question about her first name) Byler Carver & her stillborn infant. She was 17 when she died. She was the wife of William R. 'Will' Carver of Wild Bunch/Hole In The Wall Gang fame & the aunt of Laura Bullion, who may have been married to Ben Kilpatrick, also of Wild Bunch fame.

Carver was shot & killed by the Sutton County Sheriff, a deputy, & 2 constables, & is buried in Sonora in what's called the 'No Name Grave.' That's because the only thing on the gravestone is April 2, 1901. Kilpatrick was killed by Wells, Fargo agent David A. Trousdale in March of 1912, while he was attempting to rob the Galveston, Harrisburg, & San Antonio #9 at Baxter's Curve in Terrell County. He, along with his partner, is buried in Sanderson. Laura Bullion never remarried, supported herself as a seamstress in Memphis, Tennessee, & died in 1961--the last of the Wild Bunch to die."
- C. F. Eckhardt, June 25, 2010


Subject: "Caravan Stop"
...I've published a new series titled "Caravan Stop" that features the Shamrock, Texas, landmark of the Tower Conoco Station. The station was recently restored to its original 1935 condition and I decided its Route 66 heritage would make a great setting for my painting of all six generations of Corvettes. My wife and I host a number of Corvette caravans and such caravans were the inspiration for "Caravan Stop". Thanks. - Dana Forrester, A.W.S., N.W.S., November 08, 2006
"The other vintage filling station in Shamrock, this beautiful old Magnolia station boasts 3 exquisitely preserved gravity feed gas pumps." - Noel Kerns , January 2008 photo
More Texas Gas Stations
A parade in Shamrock

Postcard courtesy www.rootsweb.com/ %7Etxpstcrd/
Shamrock street scene in the 1950s

Postcard courtesy www.rootsweb.com/ %7Etxpstcrd/
Another view of Shamrock, Texas

Postcard courtesy www.rootsweb.com/ %7Etxpstcrd/