Willow, Oklahoma: The Real Texas
Or
Don't Mess with Oklahoma, Either!

Greer County, Oklahoma -
formerly Greer County, Texas

by John Troesser

Book Hotel Here › Oklahoma Hotels
Don't get upset about Texas losing territory - it happened a long time ago and besides - if we got it back it would only ruin Texas' world-renown silhouette.


For some reason the Bellville, Texas library (which is nowhere near Oklahoma) has a copy of The Willow Community 1898 - 1994: A History of the Pioneer Town in Greer County, Oklahoma.

It's one of those history books that small towns get printed after a lot of hard work, research and years of cajoling people into donating photos from their family albums which never seem to get put back.

What caught our eye was Greer, County. This was one of Texas' semi-notorious ghost counties. "Ghost counties" were counties that were approved by the State legislature but for one reason or another were never organized. Usually it was blamed on a scrawny population. Greer County, Texas was approved by the Texas Legislature in 1860 - 47 years before Oklahoma statehood.

Oklahoma has always been a good neighbor - except for that little bridge incident in the 30s when Oklahoma National Guardsmen and Texas Rangers faced off on the Red River - but that's another story. Then there's the story of Booker, Texas that moved the whole town across the state line, but we won't bring that up either. Anyway, Like a good neighbor, Oklahoma is there.

Willow is the quintessential Texas small town - except for the fact that it's technically in Oklahoma. It had the same incidents, disasters, feuding, petty rivalry, and fights with the railroad as it's neighboring towns in the Texas Panhandle. Bank robbers in Willow were apprehended in Texas and herds of Texas cattle stampeded in what would later become Willow. Even Temple Lea Houston - the original Son of Sam - settled North of the Red River and is buried there in Oklahoma.
---
The Eternal Rival

Like any good small town - Willow had a rival. It's name was originally Kell - but it was renamed Brinkman after a man who paid to have the town platted.

Three miles South of Willow, Brinkman had the advantage of having "the only grain elevator for miles."

The importance of grain elevators in Oklahoma cannot be overstated.

Both towns were on the railroad - but the main difference is - at Brinkman the trains stopped. Children in Brinkman could watch the show as the locomotive let off steam and took on water. Willow children only got to wave to the engineer.
---
How Willow got their Depot - or -
The Day the Commissioner Nearly Got Hit by the 3:17

One day a county commissioner was visiting Willow and planned his departure by flagging down the train. Evidently the engineer wasn't impressed by the size of the crowd seeing the commissioner off or else he didn't recognize a VIP when he saw one and sped right past. The commissioner's face was as red as a brakeman's lantern. The next Monday morning, carpenters arrived and started building a depot for Willow. Never underestimate the embarrassment of petty bureaucrats.

Willow had its economic setbacks, too. In 1920 a fire consumed all the wooden buildings downtown and the wooden parts of brick buildings. The townsfolk immediately set to work cleaning the bricks so they could be reused. Willow also experienced three robberies - or just two if you don't count the time the crooks got only "small change and mutilated currency."

Rivalry between Brinkman and Willow grew to become a full-fledged (but bloodless) feud and when a letter to the editor was published - touting the advantages of life and commerce in Brinkman, Willowites gnashed their teeth. Adding insult to injury - they had to buy a Brinkman newspaper to read the letter.

During statewide school consolidation - both towns refused to cooperate to decide which of them would host the school district - this caused them both to be swallowed by a third district.
---
Father Time eventually settled things by population attrition.

1910: -- Willow: 110
------- Brinkman 100
1930: -- Willow: 350
------- Brinkman 250
1950: -- Willow: 220
------- Brinkman 110
1960: -- Willow: 180
--------- Brinkman 20

Willow won the war, but the town had to swallow hard when it was included in Ghost Towns of Oklahoma by John Morris in 1978.

Thanks to the efforts of the Willow Community Historical Association, people (who have a copy) can look back to a time when everyone in Willow with a motor vehicle brought it to Main Street for a picture (two cars and two motorcycles). A time when people were Baptized in farm ponds and during Prohibition the local still was known as "The Buzzard Canyon Brewery."

So, now that you've been introduced to Willow, Oklahoma and some of its history, we hope that you'll agree that it deserves to be included in Texas towns and please don't write the editor to complain.
---
"Eightball, We hardly Knew Ye"
Owen Milton "Eightball" Campbell

One of the non-family entries in the Willow, Oklahoma history is Owen "Eightball" Campbell. Eightball was a Dallasite who came to Willow after WWII to visit an old Army buddy and never left.

The description of Eightball was written by a Willowite named Rex Wall who described Eightball as a young Martin Van Buren. For readers who can't immediately conjure up an image of Mr. Van Buren - he was a portly gentleman who wore sideburns as big as bicycle mud flaps. It was these sideburns (outrageous for 1946) which caused people to ask Eightball: "Has anyone told you you look like Martin Van Buren?"

Besides his 19th century tonsorial taste - he also wore no socks. At first some people wondered "if it was safe to be around him." Willowites, like most Oklahomans are sock-wearing people. The town of Willow breathed a collective sigh of relief when it was explained that he was from Dallas. That explained everything.

Eightball worked for wages, sharecropped and did carpentry, plumbing and electrical work. Nothing mechanical was foreign to him. He was a jack-of-all-trades and as Mr. Wall describes his talents - he modified farm equipment and improved upon its original design - "usually with a cutting torch."

He converted a six-cylinder truck into an eight-cylinder vehicle with little more than a Swiss army knife and a six-inch crescent wrench. He modified his tractor with a guide wheel that would allow his tractor to plow (albeit in circles) while he was having a beer in town. One day he returned to his auto-tractor just in time to see it sideswipe his 8-cylinder truck that was parked on the field's perimeter.

Eightball was also an amateur radio operator and was known as "The Voice of Willow." Exchanging postcards to verify contact with other radio enthusiasts around the world also gave him the distinction of being the person who bought the most stamps at the Willow post office.

He served as Commander of the local American Legion Post from 1956 until his death in 1968.

Upon his death, Eightball's friends asked his family in Texas if they would consider allowing Eightball to spend eternity in Willow. The family agreed - after finally remembering just who it was these people were talking about.

If you visit the Willow Cemetery today, you can't miss his tombstone. It's the only one sporting a bowling ball with a large black eight painted on a white circle.


© John Troesser
October 2002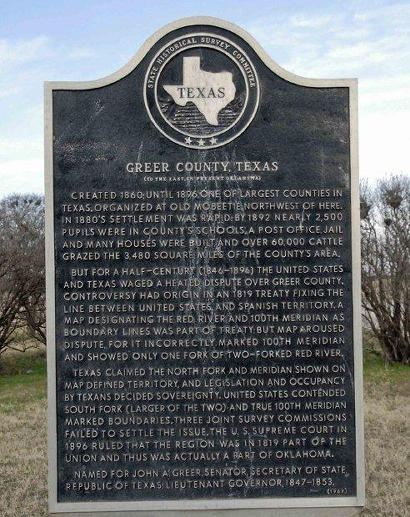 Greer County, Texas historical marker
In Shamrock, IH 40, one mile west of Oklahoma state line
Photo courtesy Rick Vanderpool, 2010
---
Willow, Oklahoma Forum
Subject: Love It
I've just come across your article about Willow, Oklahoma while researching my dad's family. Because he passed when I was young I am always searching for a personal connection beyond records and official documents. Your article gave me that and I thank you!

I look forward to exploring your magazine further. My Davidson/Vance side came to Texas via a Peter's Colony grant in the 1840s. I have some photos I'd love to send in from those early Texas Davidsons & Vances. Thank you again, - Pamela Davidson, March 03, 2019
---
Texas Escapes, in its purpose to preserve historic, endangered and vanishing Texas, asks that anyone wishing to share their local history and vintage/historic photos, please contact us.