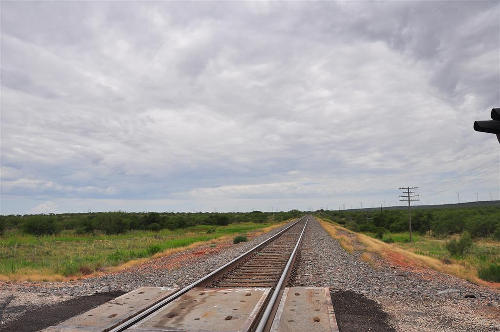 Photographer's Note:
"This one appeared on my software map.  Since there is nothing here and I didn't find anything on the Internet, I had my doubts about this one. However, since it was in an area where there were other towns I came to investigate, I stopped and photographed it.

It is located right on the BN & Sant Fe Railroad where it crosses highway Ranch 608 about 7.75-miles north of Roscoe.
It is highly possible that a long time ago there was some sort of village or community here. Or it could have just been a temporary railroad town." – Gerald Massey, June 2010

Editor's Note:
Gerald Massey correctly followed the old photographer's adage of "When in doubt, shoot!" The town may no longer be here, but Mr. Massey's photos give a good example of just how lonesome Texas can appear.
1920s Fisher County map showing Bernecker
(Below "F" in "F-I-S-H-E-R". Near Nolan County line)
Photo courtesy Texas General Land Office
BNSF railroad tracks crosses Ranch Road 608
Photo courtesy Gerald Massey, June 2010