MARGARET, TEXAS
First county seat of Hardeman County, 1884-1890
Foard County, Texas Panhandle
FM 98 and FM 3103
7 Miles NW of Crowell
27 Miles SE of Quanah
Population: 00051 (2000)
Margaret, Texas Area Hotels
Quanah Hotels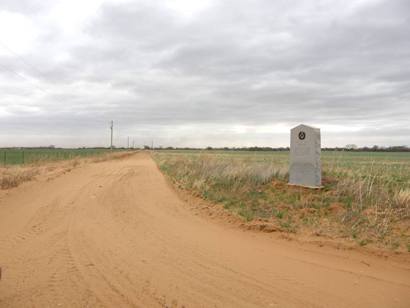 History in a Pecan Shell

Originally known as Pease, Texas, it was the (first) county seat of Hardeman County in 1884. The name comes from the first white child born in the county - Margaret Wesley. The town had a link with Texas history when Cynthia Ann Parker was rescued by Texas Ranger Captain (Sul) Ross near here in 1860.

In 1891 with the establishment of Foard County, Margaret found itself in the new county – but not the county seat. To add to the towns worries, it was bypassed by the railroad in 1908. But since it was bypassed by a mere three miles, an attempt was made to move the town to the tracks. The hard work paid off – for a time.

The Great Depression, WWII and bypassing by the improved highway system in the 1950s, left Margaret a shadow of her former self. From a 1940 population of 100, it has been reduced to the 2000 census figure of 51. Although Margaret's 1909 school closed in 1943, it has been in use as a community center for many years.


Photographer's Note:
Subject: Two Margarets, and two Pease Battlefield Markers
There are two Margarets, Old and Current, and two Pease Battlefield Markers. One is a pink granite tablet in Crowell, the second one is a gray centennial marker at the other end of the road from the Margaret Centennial Marker. - Barclay Gibson
I Drove My GMC to Foard
by Rick Vanderpool

I saw the sign that read "MARGARET 13," and turned north off US70W. Good thing I didn't yawn or I would have missed the sign that read "RAYLAND", right after the one for Foard County... [See Rayland]

Once again, had I yawned or blinked, I would have missed the sign the read "PEASE RIVER BATTLEFIELD". A quick turn north onto a deeply rutted red dirt (that's redundant out here – all the dirt is red) – this would be trouble after a rain – and a mile or so later, I read the marker about the recapture of Cynthia Ann Parker. See photo. Onward to MARGARET again…
"Marker for the recovery of Cynthia Ann Parker is out in the middle of nowhere,
between Margaret and Rayland" - Rick Vanderpool photo
What? There was an OLD MARGARET? That is what the sign read, that I would have missed, if I had, well, you know… One more side trip, down another dirt road, another marker (this one explained how the town of MARGARET was once named PEASE, but was changed to honor the first-born Anglo child, daughter of Mr. & Mrs. John Wesley – hey, it may have been THE Methodist, John Wesley, but didn't know he got this far west – see below) then onward to NEW MARGARET?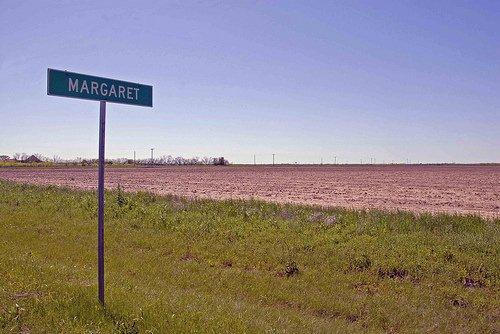 Nope, the sign simply read "MARGARET". This stretch of Foard County is not in wheat, but the land was prepared for something to be planted.

I counted about a dozen inhabited residences in MARGARET, and only 3 vacant ones. I saw some agricultural equipment and an abandoned building or two. Bob White Quail were calling from the brush, and that's a rare treat in most parts of Texas these days. Dang Fire Ants and feral cats!
Two residents of MARGARET were espied – one gentleman waved to me from the door of his shed at the end of Florence Road.

I had seen what I noted as an abandoned church – no sign and very unkempt landscape. As I reached the western town limits (another sign for MARGARET), I beheld a sign for MARGARET UNITED METHODIST CHURCH and surmised that perhaps the groundskeeper was not in the habit of attending regularly.

Adios, Miss Wesley…

© Rick Vanderpool
Texas Plains Trail Journal entry for April 27, 2010
Pease River Battlefield
Nine miles East of Crowell on FM 98 is a marker commemorating the recapture of Cynthia Ann Parker, Texas' most famous Indian captive. Captured in 1836 near Groesbeck, she was "rescued" 24 years later in 1860 and died shortly thereafter - after attempting to escape back to the Comanches. She was the mother of Quanah Parker who grew up to be go on wolf hunts with President Theodore Roosevelt and have Quanah, Texas (30 miles North) named after him.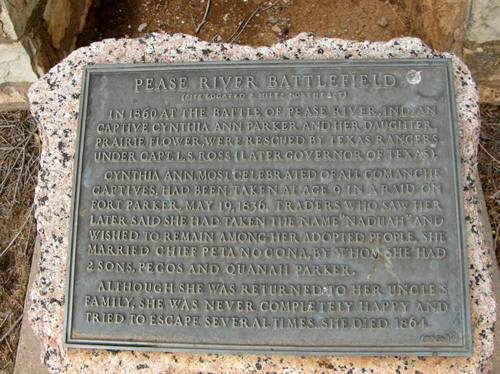 Centennial Marker Text
Pease River Battlefield
In 1860, at the Battle of Pease River, Indian captive Cynthia Ann Parker and her daughter, Prairie Flower, were rescued by Texas Rangers under Captain L. S. Ross (later Governor of Texas). Cynthia Ann, most celebrated of all Comanche captives, had been taken at age 9 in a raid on Fort Parker, May 19, 1836. Traders who saw her later said she had taken the name "Naduah" and wished to remain among her adopted people. She married Chief Peta Nocona, by whom she had 2 sons, Pecos and Quanah Parker. Although she was returned to her uncle's family, she was never completely happy and tried to escape several times. She died 1864.