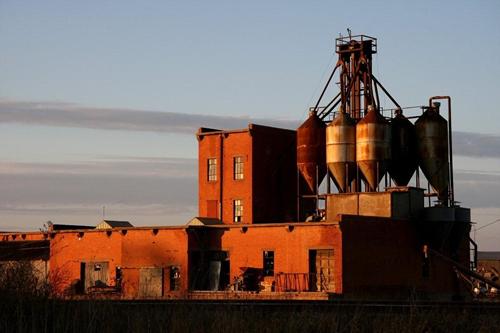 History in a Pecan Shell

The town was named by A. E. Jones for his previous home in Missouri. Begun in the 1880s, a post office was granted in 1883. Things really started jumping when the railroad (the Fort Worth and Denver City) built through the county in 1887. The town had been on the north side of the railroad tracks, but after a devestating fire, the rebuilding was done on the south side.

The town had grain elevators constructed in 1892-93, and Chillicothe incorporated in 1907 with a population of 800. A second railroad arrived in 1908 (the Kansas City, Mexico and Orient Railway) and Chillicothe's future seemed bright.

The town reached its high-water mark in 1950 with over 1,400 Iris Villagers living there. The population decreased slowly - but was still over 1,000 in 1980. In 1990 the population had dropped to just over 800.
Chillicothe Mural - A 40 x 12 mural on the side of a building adjacent to the Downtown Memorial Park expansion project.
Artists: Teresa Byrd, Marcia Haynes and Jeanne Moffett.
Completion date; July 1, 2006.

"The mural depicts some of the history of Chillicothe and includes Medicine Mounds, the Santa Fe Doodlebug, Ft. Worth & Denver Zephyr, grain elevators, Wanderers Creek, ranching, oil and the school mascot (the Eagle) holding the banner. The First United Methodist Church built in 1916 is in the center." - Teresa Byrd, July 07, 2006
First United Methodist Church in Chillicothe
First United Methodist Church built in 1916
Photo courtesy Katherine Heilhecker Nixon
More Texas Churches
The Former City Jail in Chillicothe
The former city jail.
Photo Courtesy Teresa Byrd, July 2006
Jail detail.
Photo Courtesy Teresa Byrd, July 2006
See Texas Jails
The Chillicothe Fire Department's Ghost Sign
The area in the red rectangle (far right just below the middle of photo) is a relic from the buildings previous incarnation as a smithy or livery stable.
Detail of the sign: "Buggies, wagons and repair."
Photos courtesy Teresa Byrd, July 2006
See Texas Ghost Signs
More Chillicothe Images - Past and Present
Photographer's Note:
Hwy 287 in Chilicothe, Texas.
I found this site of old grain tanks pretty interesting. I plan on stopping next time I go through there. That town has LOTS of very old buildings! Even seen some tucked away ones. - Stephen Michaels, December 13, 2007
Pumpkin
Photo courtesy Katherine Heilhecker Nixon
Photo courtesy Randy Hinsley, February 2011
Where to Stay - Medicine Mound Area Hotels:
Vernon Hotels | Quanah Hotels

Chillicothe Irises in San Francisco

Subject: Chillicothe
Just wanted to say thank you for the info on Chillicothe; my father grew up there. The Methodist Church is where my grandmother and grandfather met, married, and were both eulogized upon their passing. When I bought my home in California, I obtained some Iris bulbs from my Father who took a handful when they sold the house there. That Iris Village is alive and well in San Francisco and my children think the violet ones are the most beautiful flowers they have ever seen (and they are). Thanks again, Bruce Derr, son of Walker Derr, son of E.L Derr, Sr., January 18, 2008
Texas Escapes, in its purpose to preserve historic, endangered and vanishing Texas, asks that anyone wishing to share their local history, stories, and vintage/historic photos of their town, please contact us.
Custom Search
Save on Hotels - Expedia Affiliate Network