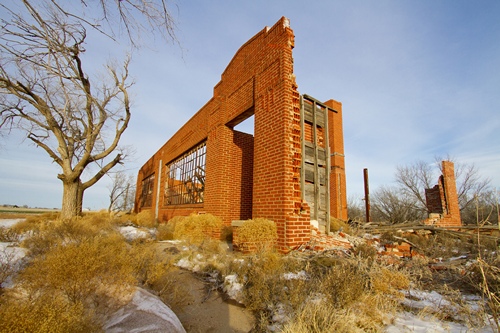 History in a Pecan Shell

Like the old saying goes: "If you find Medicine Mound - you had to have been looking for it." It's not that it's difficult to find - since it still appears on the state map - it's just that it is on a long extended spur off of Highway 287. (FM 91 on the east and FM 1167) on the west. The mountains that comprise the mounds are visible from Highway 287. There are actually four elevations that rise 200-250 feet above the landscape. These are natural mounds that were held sacred by the Comanches.

The older Medicine Mound community that had been here prior to 1908 moved 2½ miles north to be alongside the tracks of the Kansas City, Mexico and Orient Railway as it built through Hardeman County.

Medicine Mound was once a vibrant town with a respectable population of 500 served by 22 businesses. A devastating fire in the early 30s (arson) destroyed most of the town. By the end of the Great Depression the population was 210 and the town still had 6 buildings left.

Today there are three - about the same number of historical markers. The Medicine Mound school merged with Quanah's district in the mid-1950s - about the same time the post office closed.

Medicine Mound. Click on photo for larger image.
Photo courtesy Ken Rudine, July 2006
---
Medicine Mound Landmarks & Attractions:
"New York Steam Laundry"
Medicine Mound old photo courtesy Teresa Byrd, restored by John Bates
Historical Marker:
Medicine Mound Community
Early inhabitants of this area were Comanche and Kiowa Indians whose campsites were situated around four dolomite hills called Medicine Mounds and known for their healing properties. In 1854, area land was deeded to a railway company. Anglo settlers began to arrive in the 1870s. A small village developed but was moved 2.5 miles north in 1908 when the Kansas City, Mexico and Orient Railway was built. A townsite was platted that year and was fully established by 1911. At its peak, Medicine Mound boasted 22 businesses and a population of 500. Economic hardships, the Great Depression and a 1933 fire that burned the entire town were primary forces in the town's eventual demise. The last business closed in 1966.
(1999)
---
Medicine Mound Hicks & Cobb General Merchandise Store
Photo courtesy Randy Hinsley, February 2011
Historical Marker:
Hicks & Cobb General Merchandise Store
The townsite of Medicine Mound had long been a thriving village when brothers-in-law Lon L. Cobb and Ira Lee Hicks arrived in the area with their families in 1927 and opened a general merchandise store. The store sold such items as work clothes and clothing material, shoes, cotton sacks, groceries and horse feed. Regular customers warmed themselves by the fire in winter, indulging in conversation and checkers. In 1933 a fire all but destroyed the townsite, but Hicks and Cobb rebuilt that year with round granite cobblestones from Oklahoma. Lon L. Cobb died in 1942. Hicks carried on and the store was among the last businesses to serve area residents and migrant agricultural workers. Ira Lee Hicks died in 1966; the structure became a community gathering place and a Medicine Mound museum.
(1999)
Photo courtesy Geri Bates, 2006
North side of General Store
Photo courtesy Randy Hinsley, February 2011
The W.W. Cole Building, one of the two remaining building.
Photo courtesy Randy Hinsley, February 2011
The W.W. Cole Building in 2006
Photo courtesy Geri Bates
Where did all the people go?
Photo courtesy John Bates, 2006
---
Medicine Mound Schoolhouse Ruin:
Medicine Mound Schoolhouse in 2016
"... about 50 yards off FM1167..."
Photo courtesy Clay Isbell, February 2016
The schoolhouse in 2012
Photo courtesy Clay Isbell, December 2012
Medicine Mound Schoolhouse

The building pictured is indeed the Medicine Mound School, which was closed around the mid to late 1940's. it was used as a community meeting place until the early 1970's (approximately). My father graduated from this school in 1942. Thanks for sharing! - Emily Stone, March 12, 2013

Photographer's Note:

"Hi TE! A few years ago I sent pics and a question about what ultimately was identified as the schoolhouse in Medicine Mound. The pictures were from a visit in 2012. I've returned a couple of times since then, and I just visited on February 6th and was saddened by what I saw. The entire top portion of the school has collapsed or has been removed. I noticed the 2 trees that were in front of the building are gone too, making me think that perhaps the removal was intentional (maybe safety reasons?) or may have been cleaned up after a storm. Anyway, it was still a shock to see this piece of history in worse shape than before.

I've made it a habit to stop here when traveling to points further west and will continue to do so. Hopefully things won't get any worse. The rest of the town seems to be in the same shape as the last few years"
- Clay Isbell, February 12, 2016


"I've traveled Hwy 287 between Decatur and Dumas Texas for years while heading to destinations further west and never really ventured off the main highway until recently. While searching for ghost towns on your website, I came across Medicine Mound and had no clue the town existed. Even as a child back in the 70's I often wondered what the significance of the mounds were, but we always traveled this highway as a means to get from point A to point B, never exploring what lay beyond the blacktop of 287. Now as an adult and self-proclaimed "back road junkie" and photographer I have planned trips around what has become my favorite stretch of highway, and thanks to your site I've been able to find hidden gems like the ghost town of Medicine Mound.

I visited there just after Christmas 2012 and found the W.W. Cole and Hicks & Cobbs buildings in pretty much the same condition as I had seen on your website and others. But what I have not been able to find is the story on the larger building which lies in ruins about 50 yards off FM1167 and across the street from these two buildings. It appears as though it was some type of school (but seems rather large for the population statistics from the past). I would appreciate if any of your readers may have some knowledge of its past and purpose. Thanks for such an informative and intriguing website.

P.S. I have additional photos from Medicine Mound on my website below in the "Ghost Towns and Old Mines of the West".
Clay Isbell Photography
www.clayisbell.smugmug.com
www.facebook.com/clayisbellphotography
- Clay Isbell, January 01, 2013
Photo courtesy Clay Isbell, December 2012
---
---
Historical Marker
(S on FM 3295, junction of FM 1167):
Old Mounds Cemetery
This cemetery served residents of the original site of the community of Medicine Mound in southeast Hardeman County. The settlement took its name from mounds that rise abruptly from the otherwise flat topography of the county; one mound contained springs, herbs and gypsum believed to have medicinal properties. Established by the late 1800s, the community consisted of Gobins' General Merchandise Store, a school and a church. The cemetery was adjacent to the one-room building used both as a schoolhouse and sanctuary. Most early residents of the community participated in farming or ranching activities. Little information is known about the early pioneers buried here. It is believed that approximately nine burials took place in the community's early history. Only one original gravestone, dated 1891, is preserved, and it marks the burials of two infants, Smoot and Ford Kerley, children of settlers J.C. and Ida Kerley. Other known burials are of Old Mounds residents of Mexican descent. In 1908, the Kansas City, Mexico & Orient Railway laid track two and half miles north of here. Residents moved near the railroad and the previous community came to be known as Old Mounds. In 1919, the school relocated as well, and soon the old settlement was entirely abandoned, as was the cemetery. Today, this burial ground is all that remains of Old Mounds, a testament to the pioneering farmers and ranchers of this area and the Hispanic families who lived and worked here.
Historic Texas Cemetery - 2006
---
Medicine Mound Area Hotels > Vernon Hotels | Quanah Hotels

Medicine Mound, Texas Forum

Subject: Remembering Medicine Mound
I am now 62 years old and have fond memories of this now, ghost town. I lived with my grandparents in a very small house there. Their driveway (dirt and gravel) ran beside the Baptist church. My grandmother made us clean up, if the lights came on at the church and off we would go to praise God (and see our friends). My grandfather worked at the only service station in town and drove the gas truck home at night. I have fond memories of walking to see my grandfather at the station. He would always buy my brother and I a 5 cent coke in a glass bottle and a 3 - 5 cent candy bar. We loved to watch him fix flat tires in the back room. He would use a patch on the inner tube and would light it to seal the patch to the tube. We sometime got to go to what we called Punkin City to pick up gas for the station in the gas truck with him. We loved this as we sometimes got to eat at a cafe, which was a real treat.

My brother and I went to school in Medicine Mounds until they closed it. Then, we rode the bus to Quanah and back every day. The school at the Mounds had two teachers. Mrs Matthews taught the younger kids and the principal taught the older group. I think we only had six grades, I am not sure about that. I do remember the school as the most fun place. There was a wooden floor gym and you would enter the bleacher area on one floor and look down at the gym floor in like a basement area. I remember going to the gym after hours to be with my uncle to watch him practice basketball with his friends. While he was practicing, my brother and I loved to hang over the balcony and drop to the floor below. We thought this was very daring.

When I was young I remember hearing the foxhunts at night from our yard. I think my grandmother said they were at the King ranch. I also remember friends who told me of finding arrowheads on the mounds. My grandmother would never let me go there.

The last time I went to the Mounds as we all called the town, everything was all closed up. The school was still there looking very rundown. The station brought back so many memories, it is hard not to cry, even as I write this. - Nancy Sue Ashmore, October 16, 2006

Texas Escapes 400th Texas Ghost Town 12-1-06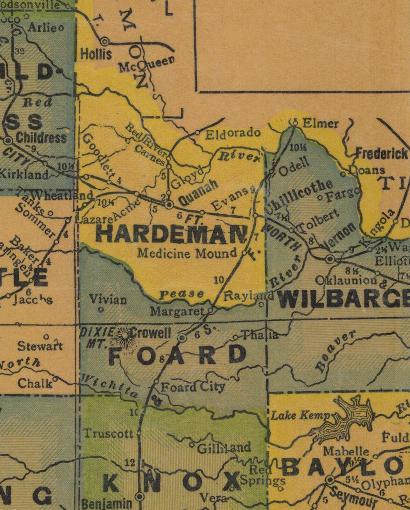 Hardeman County 1940s map showing Medicine Mound
From Texas state map #4335
Courtesy Texas General Land Office
Texas Escapes, in its purpose to preserve historic, endangered and vanishing Texas, asks that anyone wishing to share their local history and vintage/historic photos, please contact us.