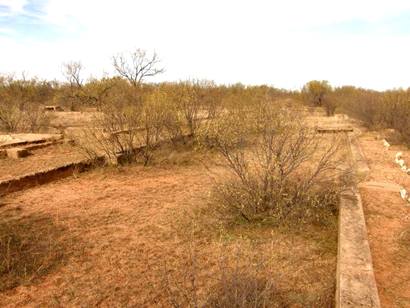 History in a Pecan Shell
The story of Williams Community is formed around its school. In the late 1920s the scattered districts of Elba, Johnson, Hooleyan, Red River and Robertson banded together to form the Williams High Rural School District.

In the mid 1930s the students were split into grammar school (262) and high school (59). They were taught by a staff of ten teachers.

Although there was a store at one point and at least one residence, the brick school was what put the town on the map (figuratively speaking). All that is left today is the simple brick memorial for the school, and the Johnson Cemetery.

A Visit to Williams Community:
Photographer's Note:
The remains of Williams are about 13-1/2 miles northwest of Quanah on FM 680. The only thing standing is the Williams High School Class Marker. (The foundations are not exactly standing). - Barclay Gibson, October 03, 2009
Foundations of Williams Rural High School
Photo courtesy Barclay Gibson, December 2008
Steps that lead to nowhere
Photo courtesy Barclay Gibson, December 2008
Custom Search
Save on Hotels - Expedia Affiliate Network