---
---
---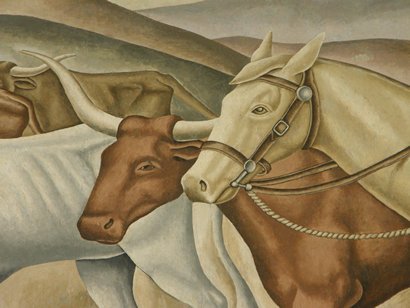 History in a Pecan Shell

First settlers moved into the area prior to the Civil War and later a small community named Brewer sprang up. Things got going in 1906 when the Trinity and Brazos Valley Railway arrived. The railroad built a machine shop here and did repairs on their cars here. The town was renamed after Betty Teague, a niece of railroad magnate B. F. Yoakum.

The railroad influence is still felt today with a notable presence of BNSF and the old railroad depot museum - including the nearby Hotel Teague - a vacant ruin with some nice brickwork.

As a shipping center for local cotton farmers, Teague prospered. By 1914 it had population of 3,300 - which rivaled many county seats in Texas at that time. Teague had electric lights, a waterworks, an ice factory, three banks, two gins, a cottonseed oil mill, three newspapers -a daily and two weeklies. Teague, like most of Texas, prospered through the 20's - right up until the Great Depression.

Cotton bottomed out and the population melted away. From 140 businesses in 1931, there were only 100 five years later.

With the increased mobility after WWII more people left and more businesses went under. In 1975 the population was still a respectable 2,800. By 1990 the population was back to 1914 figures of over 3,200 and it has inceased further to over 4, 500.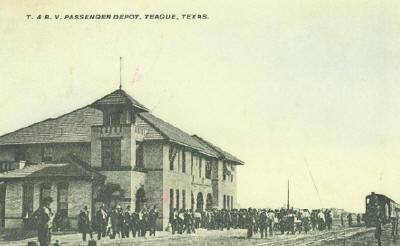 The Railroad Depot in the early 1900s
Pphoto courtesy texasoldphotos.com
City Drug Store & Davis Building on 4th Avenue, early 1900s
Photo courtesy texasoldphotos.com
---
Teague, Texas Chronicles
"The Boll Weevil" by Mike Cox
One of many long and short lines serving Texas was the Trinity and Brazos Valley Railway, better known in the early 1900s as "The Boll Weevil."
---
Teague, Texas Forum
Subject: Jack Ellis Scott
My name is Sam Scott. My father lived in Teague and I assume went to Teague High School. He passed away when I was 11. I never had the opportunity to talk to my father about his childhood and growing up in Teague. He always worked out of town and we lived in Jonesville, Virginia. I have tried, through the school to get information about high school annuals but because he probably attended school in the 1920s It's hard to find those years. If you have any information about a place where I could get or look at an annual I would really appreciate an e-mail from you. If It helps My grandfather was Samuel J Scott, my grandmother was Mary Ethel Scott. I was told as a child that my grandfather was the road commissioner for the county. Thanks. Sam Scott, June 19, 2006, E-mail: ps49@verizon.net
---
Texas Escapes, in its purpose to preserve historic, endangered and vanishing Texas, asks that anyone wishing to share their local history and vintage/historic photos, please contact us.
---