Goodnight, Texas is what would be called a vortex in Sedona, AZ. When I first passed along US287 through Goodnight in 2006 I had not yet recognized this area as a geological power point. But later studying the possible sources of force surrounding Goodnight it is probable this vortex draws its power from the Canadian River to the north, Palo Duro Canyon to the south and Llano Estacado to the southwest.

You might think that is too large an area to determine that Goodnight could be the center but remember Charles Goodnight himself made this choice. Born in Illinois in 1836, Charles lived in Goodnight, Texas from 1887 until he died in 1929. His life included years of successful cattle drives, the changes caused by barbed wire and the switch of the region from open range to farming and ranching. Who but Charles would have better judgment of this center location?

Charles Goodnight and Oliver Loving worked together on cattle drives before the railroad replaced that enterprise. A Lone Star Steel salesman Bill Loving shared his Oliver Loving family stories with me on several occasions. Only by taking careful steps did the land serve these men rather than take their lives.

In 1876 Goodnight partnered with John Adair founding the JA ranch in Palo Duro Canyon where they kept a buffalo herd. By 1916 Goodnight had begun to invite Indians who had been forced to live on reservation to come and hunt his buffalo herd just like the old days. The buffalo animal is more like a horse than a cow. Buffaloes can roll in the mud to get relief for infernal insects swarms whereas a cow cannot. Buffaloes also can run like a horse for many miles.


In 1961 I flew over the Canadian River. Before then I was not aware that river existed. In fact when I was flying over it – I couldn't believe it. The river was at least one mile wide but no more than an inch deep in the DEEPER places. Since then I have became aware of horses and riders attempting to cross the Canadian River and never being found. I have read of horses that have developed a special step to keep their hooves from sinking in the quicksand. All things considered the Canadian River is a formidable force.

The Palo Duro Canyon was a winter protection hide-away for Indians. The canyon's lower altitude provided enough temperature difference to allow for survival during a harsh winter rather than death. The Canyon is approximately 20,000 acres. In 1874 Col. MacKenzie led a group of soldiers who captured the Indians 1400 horses which forced the Indians to surrender. The Indians were subsequently moved to reservations in Oklahoma. This effectively ended all Indian wars. This history is a substantial part of the power source of this geological feature.


The treeless Llano Estacado also known as the staked plain occupies most of three counties but not limited to Lamb, Bailey and Cochran. Since the plain had no useable natural landmarks, a practice of driving stakes to mark a cattle drive path was adopted. During Mirabeau Lamar's Presidency of Texas he sent a wagon train to cross the Llano Estacado into New Mexico. This became a death sentence for the participants and Lamar's political downfall. Actually a sample of the difficulty of climbing the Caprock escarpment with wagons can be seen east of Lubbock at Dickens in Dickens County.

A major town in Lamb County is Littlefield, home town of Waylon Jennings, writer of "Lukenbach Texas." My friend Dan Adkisson ran a family sheet metal business in Lubbock and for a while Waylon Jennings was one of Dan's uncelebrated employees. In Bailey County folks recognize the large towns of Muleshoe and Morton in Cochran County. Now detailed maps of these counties and others around them show graded dirt roads forming grids of a square mile each to easily know your location. This is known as sectioning, where a section is 640 acres. Before all this, knowing how and when to cross this area could have been the difference between success and failure of many cattle drives in history.

It is the general belief that a vortex may tend to focus the history of its past affecting the future. This is the conclusion I have come to agree with after many trips to Sedona. Waylon Jennings was likely influenced by this vortex as was Bill Mack from Shamrock, Texas (Wheeler County) DJ and writer of "Drinking Champagne."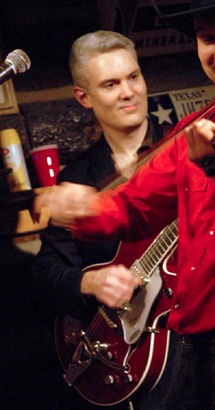 Now Mick Reed came under this power point while driving a recently purchased vintage ragtop cross-country. Traveling from California to New York on US287 highway in a darker than dark strip, his headlights illuminate Goodnight, a Texas highway sign. Simultaneously Mick senses some person or thing darting at his vehicle from the side. No impact was felt and nothing was seen in the rearview mirror. He continued driving and mulled over the event. Afterward he became aware of a melody playing in his mind. This was truly memorable even though nothing actually happened. 

A couple of years pass before Mick wrote down the melody and his lyrics. In 2007 he found my Goodnight sign photo in TE and sent me an email including his song telling me he has a plan to make a future music CD. He asks for permission to use my TE Goodnight sign photo and my buffalo photos for the CD cover. A deal was struck including a copy of the CD when available. Now it's 2012 and the GOODNIGHT TEXAS CD arrived in my mailbox – last week.
Mick Reed Goodnight, Texas CD
I have reached the end of my story, but Mick Reed's story is not over. Mick is a performer of Country & Western music in and around New York City. He lives in nearby Connecticut and has a great day job in NYC. Some day he hopes to make a music video in Texas. Meanwhile Mick is simply a trustworthy man singing the words and playing the music he became aware of—just passing through GOODNIGHT TEXAS—a vortex.


© Ken Rudine
Traveling Team Rudine April 2 , 2012 column

Related Topics:
Goodnight, Texas
Texas Music
Texas Towns