One of the former banks in Coolidge
TE Photo
History in a Pecan Shell
Like several Texas towns we could name, Coolidge was misspelled for awhile. It went by the name Cooledge for 27 years - from 1903 to 1930. President Calvin Coolidge was president from 1923 to 1929 - and seeing his name in print so often may have led someone to investigate. But like Lincoln, Texas, Coolidge was not named after a president, but someone else. In this case it was a mere stockholder in the Trinity and Brazos Valley Railroad. We are happy to report that Roosevelt, Texas was named after Teddy Roosevelt, and while we're mentioning Teddy - his son Kermit had the County Seat of Winkler County named after him.

Back to Limestone County - Coolidge was born because of the railroad and nearly died because of the railroad. The railroad abandoned its rails through Coolidge in 1942, but it managed to hang on, even though it never again reached its high water mark of 1,150 that it held in the 1930s.

It's a nice little place to visit.

More on Coolidge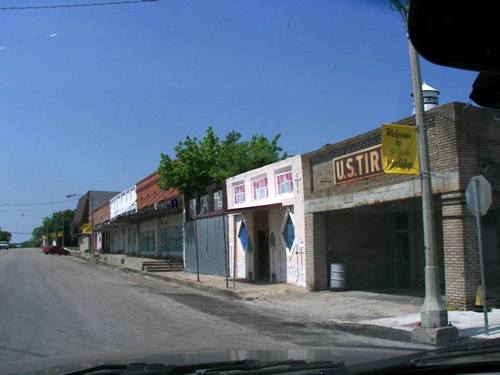 Early 1900s Coolidge Street Scene
Photo courtesy texasoldphotos.com
Story about Coolidge, Texas
The following is an excerpt from the writings of Archibald Flint Watkins, younger brother of my husband's grandfather. (This unpublished manuscript was written in 1956, two years before Flint's death.) He moved to Tehuacana, Texas, from a farm six miles east of Wildcat Crossing and one mile south of Crossroads in Henderson County, when he was about 7 years old:

It was not many months after my visit to Mrs. Yarborough's home at Concord that the Trinity and Brazos Valley (T&BV) railroad was built and missed both Armour and Concord - about half way between on a high hill in what was known as the Bob Bell Pasture. There a town was built which was named Coolidge - for one of the Railroad officials. The first building in Coolidge was a railroad passenger depot - then followed the cotton gin, the blacksmith shop and chili joint. The Robbins family - grandfather, son and grandson - ran the Blacksmith shop. They were recent immigrants from Norway and brought the trade to Texas direct from their homeland. Grandfather Robbins was especially noted for his handmade pocket knives and rather fine cutlery in general.

After several months of feverish preparation of streets and building of the Blacksmith shop and other necessary buildings, the town site promoters took unlimited space in the newspapers of the neighboring towns to advertise a "Grand Opening and a Lot sale in the Bonny New Town of Coolidge."

One Monday morning the T. and B. V. R.R. ran a special train and picked up passengers at each station along the line to attend and participate in the sale of business and dwelling lots When that train passed through Tehuacana Station a friend and I boarded it and really took in the big celebration. We were about fourteen or fifteen - just the right age to be impressed with such an affair.

Within a year or so Coolidge had 40 or 50 residences, 2 or 3 churches, 6 or 8 stores a brick school building and a bank - it was really a town, not just a community center.
- From Wanda Watkins, November 20, 2005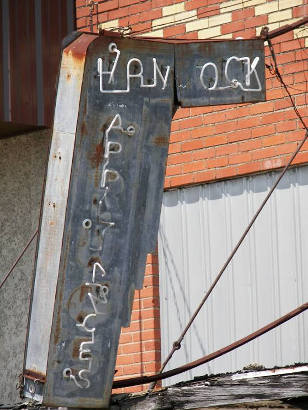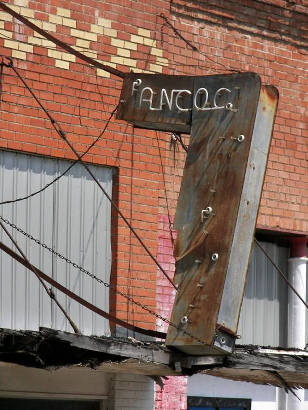 Subject: Coolidge, Texas
I've run across your site in the process of researching for a book I'm working on based on my mother's life. She was born in 1917 and grew up in Coolidge. Her parents were Jesse and Ruth Beckham. Although I was raised on the Gulf Coast and Alvarado, I was born in Mexia while my mom and sister were visiting my grandparents in Coolidge.

I remember spending a lot of weekends in Coolidge in the 1950s and early 1960s at my grandparents' house on the main street--Bell?--only a couple of blocks from town. My grandmother had a trellis covered in roses--pink was her favorite color-- that led to her garden on one side of the house. We always had to go to church--First Baptist--when we visited. I am sending a picture of my grandparents, my mom & her sister, and me on the front porch of my grandparents' house, a picture of all of us standing in front of my grandmothers' trellis, and a picture of my grandmother standing in front of her house.
I only remember snippets of my visits there. My grandfather watching baseball on television; my grandmother's cherry cokes with real cherries; getting car sick on the way and throwing up in the fields of bluebonnets on the side of the road; playing chase in my grandmother's garden with my grandfather, and getting claustrophobic trying to sleep on my grandmother's feather mattresses!

I would also very much appreciate it if anyone who reads this and remembers can tell me if Coolidge ever had a movie theater? I know that my mother loved movies but I cannot remember if she told me that she saw those movies in Coolidge or Mexia. I do remember her telling me about riding the train sometimes to Mexia. I can be contacted at morrowmick (at) gmail (dot) com. Thanks - Gayle Morrow, October 13, 2013
Subject: Coolidge, Texas
I was born at home in Coolidge in 1934. My Grandmother Etta Mae Robbins was a mid-wife. She delivered me and my oldest brother Jimmy Charles Robbins. My mother was Annie Sue (Armstrong) Robbins. My fathers James Alexander Robbins. His father was Burton Alexander Robbins. Burton was a blacksmith. He taught his sons Jay and Raymond Robbins how to blacksmith. The blacksmith shop in Coolidge was called J.E and J.I Robbins Blacksmith. I was born in the Monger Cotton Gin Co. house across the dirt street from the blacksmith shop. I would say that the first few years of my life were spent in that shop. My Grand Pa turned over the blacksmith business to his sons and he worked for Munger Gin Company.

I moved to Houston with my parent in 1941. In my early teen years mom would take us boys (two brothers...Jerry and Jimmy) to Coolidge for a week or so visit. My uncle was a cotton farmer. My mother picked cotton in the summer for Uncle Burl. Mom would take us home for a couple of weeks during the summer.

Jay Thorpe Robbins is a World War II fighter pilot in the South Pacific (8th Fighter Group, 5th Air Force). He is the son of Jay Robbins, the blacksmith.

My Grand Pa died in 1941. He, Grandma, my mother and my father are buried in Coolidge Cemetery. We visited Coolidge often over many year. Visiting Aunt and Uncles and cousins. I slowly watched the town shrink in size and business move out. Yet it is home to many of my relatives to this day. - Joe Robbins, January 15, 2011


Subject: Coolidge, Texas
Dear TE, I just queried Coolidge, Texas and got your website story and pictures. I can't tell you what grand memories that brought back. My grandparents and many of their siblings and children lived in Coolidge. The "Hancock Appliance" sign hung over the store that belonged to my great uncle...Joe Wallace Hancock. My grandparents lived (for as long as I knew them) at the NW corner of 3rd and Jester. Their house is long since gone. My great-grandparents, grandparents and my father are buried in the Coolidge cemetery. I spent many happy times in Coolidge (and lived there for 1.5 years as a child). Thank you for the article and pictures. I remember how Coolidge was in the late 40's and on into the early 60's. I still have kinfolk who live there. Thanks for the memories. - Brenda Sutterfield, Tulsa, Oklahoma, January 20, 2009


Subject: Coolidge, Tx
My dad's family are from there. We lived there until I turned 6yrs old and I can remember walking down main street to the ice house with my sisters pulling a wagon to get a block of ice to take back home to make home made ice cream. All the kids in town walked everywhere that they needed to go. We even had a man that had candy in his garage that you could buy. It sure was good. We didn't get candy a lot like you can now adays. I loved staying with my grandma because i could stay up late and listen to all of the old folk talk about the old days while they were playing dominoes and eating grandma's fried pies and tea cakes. Boy I sure do miss those days.

I have a cousin that has written a book on the history of Limestone county. You can only view it at the McLennan Library and it can not be checked out. His name is Ray Waters and it is the History of Limestone County. - Denise (Miles) Krumnow, June 27, 2005


Subject: Coolidge, Texas Update
There have been a few improvements to the city since your initial webpage...

[Note] the progress in the historical restoration of the railroad depot as a museum which will house a late 19th century linotype and hand operated printing press as well as the annual Mesquite Tree Festival. It would certainly help remove such a negative portrayal of my home town.

They did repaint the water tower from that un-Godly yellow and black. - Former Coolidge resident, David Webb, Angleton, TX, January 17, 2004
The Coolidge water tower, yesterday and today
L - TE Photo, R - Courtesy Barclay Gibson, April 2006
Custom Search