---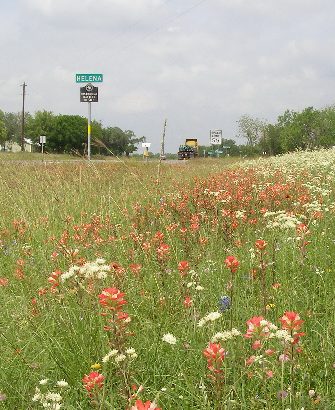 History in a Pecan Shell
Helena once held great promise. It was founded by Lewis Owings and Thomas Ruckman. The name came from Owings wife Helen. Ownings went on to become the first Governor of Arizona (Territory). Helena's situation on the San Antonio River and the Chihuahua Trail guaranteed it would become a major city.

Helena became the first Karnes County Seat when the county organized in 1854 and during the Civil War it served as a major point on the "Cotton Road" between Matamoros, Mexico and Alleyton, Texas (Colorado County).

See The First Karnes County Courthouse

According to story, the demise of Helena can be traced to one man. He was a rancher whose son was shot and killed in Helena. He demanded revenge and when he couldn't find the individual(s) responsible, he instead swore to kill the entire town. When the railroad came through the area, the rancher practically gave the railroad their right-of-way and we can see the results today.
The other story was that the railroad was demanding a bounty of 35,000 dollars and the town could only come up with 32,000. The railroad insisted on the full amount and moved on to Karnes City when the extra money couldn't be raised. The second story is believable, but doesn't have the pathos of a father's grief.
Historical Marker Text
Photo courtesy William Beauchamp
Click on image to see marker

Helena
Founded in 1852 on San Antonio River by Thomas Ruckman, a graduate of Princeton, and Lewis Owings, later first governor of Arizona Territory. Town was named in honor of Owings' wife, Helen.

Situated on branch of famed Chihuahua Trail (running from Indianola to San Antonio to Northern Mexico), Helena was to experience quick growth. Much traffic of wagon freight and gold bullion traveled trail. Four-horse stages daily passed through town.

Helena was designated county seat when Karnes County was created and organized in 1854. First election of county officials was held on gallery of Ruckman-Owings Store.

During Civil War, Karnes County mustered six companies, including Helena Guards, for service. Helena was a Confederate post office and issued its own stamps. Much Confederate cotton destined for Mexican ports passed through Helena.

During its heyday, Helena had a courthouse, jail, newspaper, academy, drugstore, blacksmith shop, two hotels, and several saloons and general stores.

Bypassed by the S.A. & A.P. Railroad in 1886, town died. County seat was moved to Karnes City in 1894 after hotly contested election.
1967
Photographer's Note - "The old white Helena house shown was originaly in another Helena location. Was taken apart, moved to the Courthouse grounds & reassembled. It was in use for many years till 2008 by the "Happy Helena Quilters". The house has many interesting community items in it, including the first electric stove in Karnes County.

The old house & Post Office are all part of the Museum Complex at the Courthouse grounds." - William Beauchamp
Helena Post Office rebuilt from the lumber of the original store in 1945. Now part of the Karnes County Museum Complex
Photo courtesy William Beauchamp, April 2012
More Texas Post Offices
Photographer's Note - "The little post office building holds Post Office related items from several of the early small post offices in Karnes County. The early Helena Post Office was in a store across the street." - William Beauchamp
Helene issued its own stamp during the Civil War
Photo courtesy William Beauchamp, April 2012
Black Diamond Elephant Leg
Photographer's Note - "Above photo is of an old "Real" leg of an elephant in a early traveling circus. It sits now in the corner of the little Post Office Building on the Courthouse Grounds in Helena. Story is the Circus Elephant killed someone in Corsicana. They decided to kill the elephant but wait till there next stop in Kenedy. It was killed across the road from were Otto Keiser Hospital now stands and at the location of the Black Diamond Ranch. It took 170 shots to kill the big animal. After it was downed it was found the poor creature had a bad tooth. Probably the reason it went crazy at the stop before." - William Beauchamp
Strap iron cells from Helena jail and Falls City jail. The plaque in the middle is from the former Karnes County jail, dated 1954.
Photo courtesy Terry Jeanson, June 2012
More Texas Jails
Ox-Cart Road Historical Marker
On Old courthouse Square, FM 81
Photo courtesy William Beauchamp, April 2012
Historical Marker Text
Ox-Cart Road
(Section of Chihuahua Road)
After centuries of use by buffalo and Indians, this trail from San Antonio to the Texas coast gained importance when opened to colonial travel by the Alarcon Expedition in 1718.

Spanish conquistadores and priests, the Gutierrez-Magee Expedition (which invaded Spanish Texas in 1812), Stephen F. Austin, Alamo heroes, Santa Anna's messenger ordering the death of prisoners at Goliad, Polish and German settlers of Texas-- all traveled on road.

Rich trade in gold, silver, and leather with Mexico and the West was conducted along the road from San Antonio to Powderhorn. The U.S. 2nd Cavalry Forts, established to protect the Texas frontier, moved men and supplies over it. Materials were transported in two-wheeled ox-carts, prairie schooners, Wells-Fargo wagons drawn by sixteen mules, and by pack animals.

In 1852 Helena was founded on road as a midway point between San Antonio and Goliad; Lewis S. Owings operated a daily stage line here, 1854. Major incidents of the Bizarre Cart War of 1857 between Texan and Mexican teamsters occurred near Helena.

Herds of longhorns from South Texas crossed the road here enroute to market. After the railroad came through county in 1886, the Ox-Cart Road was abandoned.
1967
Historical Marker Text
Photo courtesy William Beauchamp
Click on image to see marker

Thomas Ruckman

(November 8, 1826 - December 2, 1914)
Founding father of Karnes County, Ruckman was born in Northumberland County, Pennsylvania. He graduated in 1848 from the College of New Jersey (now Princeton University) and taught in South Carolina for a year. But the lure of Texas-- then a frontier state where land was cheap and opportunity boundless-- brought him on Christmas morning, 1850, to San Antonio.

In 1851 he started a trading post in the little Mexican settlement of Alamita, located on the Old Ox-Cart Road between San Antonio and Goliad. Other businessmen followed his example, and soon Ruckman was able to build a gristmill near the San Antonio River, enlarge his store, and erect a stately home.

Soon after, Ruckman took as partner Dr. L. S. Owings, and together they foresaw a metropolis arising at this important and inviting roadstop. Their store once stood near the site of this marker.

In 1852, they laid out a new town, which they named "Helena", in honor of Owings' wife. When Karnes County organized in 1854, Helena was chosen county seat.

Ruckman was postmaster here, 1854 to 1857, and he continued nearly 40 years as leading merchant and banker. In 1872, he helped found the Helena Academy.

He is buried in the Masonic Cemetery of Helena.
The Helena Museum Complex
TE Photo, 2001
State Highway 80 through Helena
TE Photo, 2001
---
Texas Escapes, in its purpose to preserve historic, endangered and vanishing Texas, asks that anyone wishing to share their local history and vintage/historic photos, please contact us.
---