"On Highway 172, south of Ganada, is this steer which I had decided, years ago, was the steer I wanted to photograph to represent the breed (and it finally posed). As you will notice its color is Burnt Orange and White, too." - Ken Rudine Team, June 2008 photo.
History in a Rice Hull

Jackson County's "second city," Ganado was originally known as Mustang Settlement, after nearby Mustang Creek. Cattle ranching was the primary economic engine and herds were driven to Louisiana for sale and later to Kansas City. That came to an abrupt end with the coming of the railroad in 1882.

A railroad official is credited with the name Ganado - which is Spanish for "herd." The name was well established when the post office opened a short time later.

Scandinavian immigrants bought land and began farming in 1891. A second wave of immigration brought Germans and Bohemians in the 1880s and 1890s.

By 1914 the town was thriving with a rice mill and storage facilities, 750 citizens, a school district and a weekly newspaper.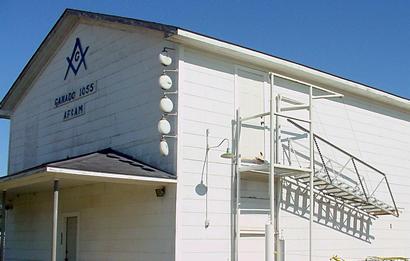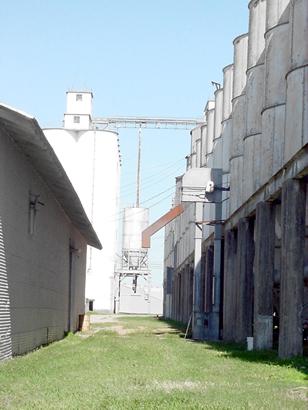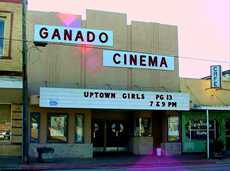 Ganado Texas Forum
Subject: His name is "Tex"...
You can imagine the surprise and pride that my husband had when he was searching for an article in our Ganado community, when he ran across a picture on Texas Escapes of our baby "Tex" and his sidekick "Freckles". Tex has been part of our family since 1999, when we bought him at 5 months old. We wanted a longhorn to put on our own "little piece of Texas". Since then, his picture has been taken by scores of folks who drive up and down Hwy. 172. Some have driven up the drive and ask to pet him and get close up shots and he's always a willing subject. I always knew that someday he would be on a postcard or something similar and here we are!

Today he's approx. 1200 lbs with a horn spread of 8' 1" (including the curl). We invite anyone to come on by and visit....

Thanks for making our boy a celebrity! - Clyde & Gail McDonald, Ganado, TX, February 22, 2009


Subject: THE GANADO THEATER
AS A YOUNG LAD OF 12 YEARS OF AGE MY FAMILY MOVED TO GANADO WHERE MY FATHER WAS TRANSFERRED BY HUMBLE OIL. THE GANADO THEATER WAS ABOUT ALL THE ENTERTAINMENT THERE WAS IN THE TOWN OUTSIDE OF FOOTBALL. THE OLD GANADO THEATER HAD NO MARQUEE AND HAD A SIGN OUT FRONT THAT SAID SIMPLY GANADO. IT WAS PART OF THE LONG THEATER CHAIN, NOW EXTINCT, WAS RUN BY A LITTLE OLD LADY NAMED MRS. STAHALLA AND BELIEVE YOU ME SHE MADE US KIDS BEHAVE ON SATURDAYS. SHE WAS NOT ABOVE CALLING PARENTS TO COME GET THEIR WAYWARD BRATS. THE OLD THEATER HAD A BALCONY FOR WHITES AND ANOTHER ONE FOR BLACKS UP INTO THE 60S. THE GANADO THEATER ( THAT'S WHAT IT WAS CALLED THEN SHOWED 2ND AND 3RD RUN MOVIES, ADULTS 50 CENTS AND KIDS 25 CENTS. THE PROJECTOR WAS RUN BY A YOUNG BOY NAMED ALVIN SVBODA, PRESENT OWNER OF SAME. THE GANADO CENEMA HAD EVOLVED THROUGH MR. SVBODA'S CAPABLE HANDS INTO A FIRST RATE, FIRST RUN SURROUND SOUND THEATER AND THE PRICES HAVE SLIGHTLY GONE UP TO MEET DEMAND. THIS THEATER HAS FAR OUTLIVED IT'S SISTERS IN SURROUNDING COUNTIES. THANK YOU - R.R. "HANK" GUPTON, ANAHUAC, TEXAS, December 17, 2004

Book Your Hotel Here & Save
Port Lavaca Hotels
Victoria Hotels
Rockport Hotels
Houston Hotels
More Hotels