History in a Pecan Shell

In 1859 Dr. Charles de Ganahl opened a post office inside his home on the north side of the Guadalupe River. Ganahl applied for the post office to be called Zanzenberg after his Austrian hometown and it was granted under that name.

In 1872 when the post office moved to the south side of the river, the new postmaster renamed the post office Center Point since it was both equidistant between Kerrville and Comfort and Fredericksburg and Bandera.

In 1888 Charles de Ganahl's widow Virginia attempted to bolster the sagging population of the settlement's north bank by deeding land to the railroad. The railroad came and built a depot, however the town which she had hoped to name Ganahl, never materialized.

The 1900 population of Center Point was estimated at 500 with most essential businesses and a few of the non-essential variety. Center Point was an active trading center for area ranches and farms through the 1920s.

The area's reputation as a retirement haven goes back a long way. It became a popular place for former Texas Rangers to retire and many tombstones in the town's cemetery have small metal crosses alongside them – signifying a Ranger's grave.

Center Point spent decades minding its business and enjoying life alongside the river. The population which was estimated at 800 in the mid 1980s, fell to 625 for the 1990 census, rebounded back to 800 in 2000. The population estimate in 2010 is 566.

From time to time there's a tongue-in-cheek movement to rename the community Zanzenberg since its more in keeping with other Germanic place names in the Hill Country.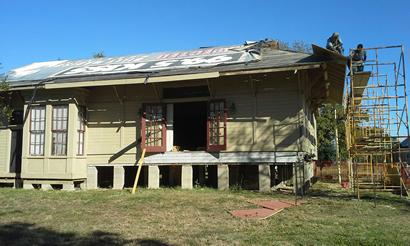 "The Historic Center Point Railroad Depot was moved back to Center Point in 2012, and is currently undergoing roof restoration, spearheaded by efforts of the Center Point Area Historic Preservation Association. The Association now has a Facebook page under the its name, with photos and updates." - Rachel A. Jones, Secretary, Center Point Area Historical Association, November 21, 2014
More Texas Depots | Texas Railroads | Texas Historic Preservation
"Honk if you love Center Point."
"...and then the bartender says: I wasn't talking to you - I was talking to the duck!"
TE photos, February 2009
One of many Texas Ranger grave markers in the Center Point Cemetery.
TE photo, February 2009
Site of Zanzenberg Granite Marker
Take our word for it, there is an inscription.
Historical Marker Text:
Site of Zanzenberg
Home of Dr. Charles De Ganahl (1824-1883), a signer of the Texas Articles of Secession in 1861 and Army Surgeon for the Confederate States of America. The home was erected in 1856 and named after Dr. Ganahl's ancestral home in the Austrian Tyrol of Europe. Here the first post office in Kerr County was established in 1857 with his wife Virginia (1834-1895) as the first postmaster. (1968)
Texas Escapes, in its purpose to preserve historic, endangered and vanishing Texas, asks that anyone wishing to share their local history and vintage/historic photos, please contact us.
Custom Search