Johnson City, Texas Topics: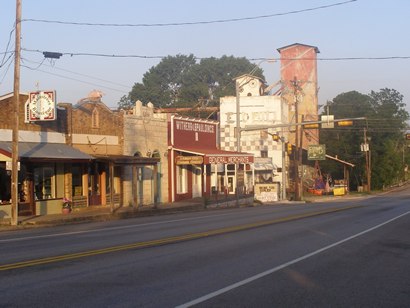 History in a Pecan Shell

Named after James Polk Johnson who was one of the original settlers. In 1876 an election was called to move the county seat more toward the center of the county. Defeated, the settlers decided to build a community that might rival Blanco for the title. The site chosen was on Johnson's land. A post office was granted in 1878 and a newspaper was published in 1883. In 1879 another election for county seat was held and Johnson City was defeated.

The town grew and by 1890, after a hard-won election, Johnson City became the county seat.

In the 1930s Johnson City was still without utilities until Lyndon Baines Johnson sponsored legislation that created the Lower Colorado River Authority and the Pedernales (River) Electric Cooperative.

During Johnson's vice-presidency and presidency, the town became a tourist attraction - which it continues to be. Johnson later deeded the family property to the government, creating what is now the LBJ National Historical Park.

From 52 businesses in that period, 26 dissolved by the mid-1980s.
Johnson City Landmarks / Attractions
Johnson City Home Town of Lyndon B. Johnson
Photo courtesy William Beauchamp, June 2009
"Public School, Johnson City, Texas"
Postcard courtesy www.rootsweb.com/ %7Etxpstcrd/
More Texas Schoolhouses
---
Johnson City Related Stories
The Ghost on Highway 281 by C.F. Eckhardt ("Charley Eckhardt's Texas" Column)
"...About a year and a half later John was in the old Jailhouse Barber Shop in Blanco, and he mentioned seeing the guy with the knife alongside 281. "Oh," somebody said, "you saw Lackey's ghost." ... As it turned out, John wasn't the only person who'd seen Lackey trying to hitch a ride north toward Johnson City. A lot of people were aware of him. Truckers don't like to drive that stretch on fall nights..."


LBJ and East Texas Politics by Archie P. McDonald ("All Things Historical" Column)


The Mysteries of Buffalo Cave by Michael Barr
Buffalo Cave, near Johnson City in Blanco County, has been a place of mystery since cattlemen first discovered its dark entrance while grazing their herds along the Pedernales River in the 1800s.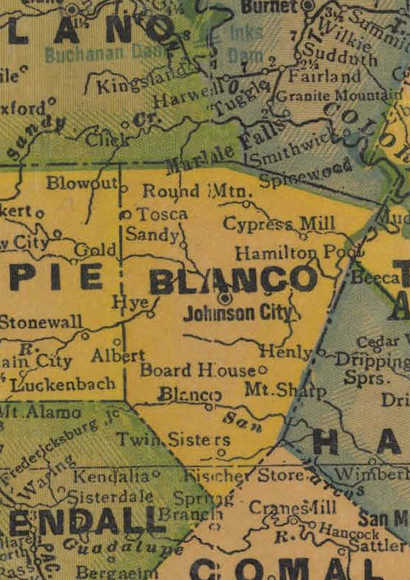 ---
Texas Escapes, in its purpose to preserve historic, endangered and vanishing Texas, asks that anyone wishing to share their local history, stories, landmarks and vintage/historic photos, please contact us.