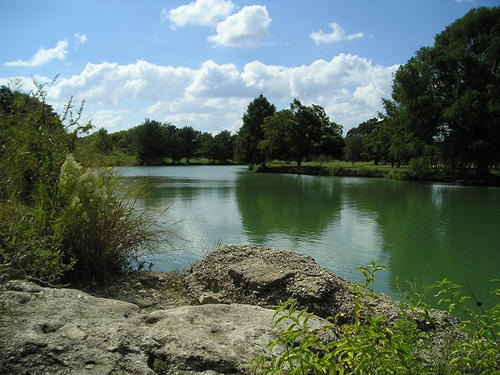 History in a Pecan Shell

First settlement began in 1853 when cabins were built on the banks of the Blanco River. The following year investors of the Pittsburgh Land Company, bought Horace Eggleston's land grant and platted a town they called Pittsburgh after the company's founder, General Pitts. The new community was on the south side of the river.

That same year a Methodist church was organized and the building also doubled as the first school. The Masonic Lodge of Twin Sisters moved to Pittsburg in the late 1850s.

The county was organized in 1858 and instead of Pittsburgh, a new town on the opposite bank of the river was to become the county seat. The Pittsburgh Land Company didn't seem bothered by the snub, for they donated 120 acres of land for the new town. A post office was granted in 1858 and two years later the county's first courthouse was built.

The Masons penned a charter for a Masonic University in 1874, but after the foundation was laid, funds dried up. A native stone courthouse replaced the log structure in 1875. Architects for the project were the Ruffini Brothers (Frederick E. and Oscar) who were to become prolific builders across Texas. The former courthouse burned in 1876 and that's the year the citizenry of Johnson City first petitioned for an election in hopes of "stealing" the title from Blanco. Johnson City lost.

In 1884 a high school was built on the abandoned foundation of the university that never was. The school opened in the fall of 1884, and the first class graduated three years later. Johnson City won an election in 1890 and the records were transfered there from Blanco the following year. The rivalry between the two towns continues to this day.

From a population of less than 500 in 1904, Blanco grew to 1,100 by 1939, the year they incorporated. In the 1940s, it dropped back to 453 but once again grew to 1,238 for the 1990 Census. In 2000 it reported 1,505 residents.

The courthouse has been restored in recent years, making one of the best preserved former courthouses in the state and is a fine example of the Ruffini Brother's work.
---
Blanco, Texas Attractions & Landmarks
The CCC stone arch bridge
Photo courtesy Barclay Gibson, December 2007
---
The 1885 former Blanco County Courthouse in Blanco
Photo courtesy Texas State Library and Archives
Another view of the Former Blanco County Courthouse in Blanco
Photo courtesy Barclay Gibson, December 2006
The courthouse before restoration
Courtesy of the San Antonio Conservation Society Foundation
---
Blanco County 1940s map
From Texas state map #4335
Courtesy Texas General Land Office
---
Texas Escapes, in its purpose to preserve historic, endangered and vanishing Texas, asks that anyone wishing to share their local history and vintage/historic photos, please contact us.