History in a Pecan Shell
The county's first resident settled the area in 1876.

When the county was organized in 1890, Wellington had a rival for county seat. Only two miles from Wellington, Pearl City was thought to be a shoe-in.

The management of the Rocking Chair Ranch urged their employees to join the Wellington camp. The strange name was in honor of the Duke of Wellington. (A distant relation of a Rocking Chair Ranch partner was present at the Battle of Waterloo.) Voters in the county were offered free town lots if they voted for Wellington. Hardly anyone was surprised when Wellington defeated Pearl City.

Wellington got a saloon (moved from Pearl City) and a post office (mail via Memphis) in the same year of 1891. The county voted dry in 1898, eliminating the saloon.

Cotton replaced cattle as the major economic influence and the town had 600 people when the Wichita Falls and Northwestern Railway came through in 1910.

The arrival of the Fort Worth and Denver Northern Railway occurred while the new courthouse was being constructed in 1931 and further improvements in the city's infrastructure resulted in an increased population.
Wellington, Texas Landmarks/Attraction
Wellington City Limit Sign
Photo Courtesy Barclay Gibson, December 2008
Historical Marker
On US 83, 2 miles S of Wellington
Photo Courtesy Barclay Gibson, December 2008
Historical Marker:
Capt. Randolph Marcy's Exploration Route through Collingsworth County
In 1852, Capt. R.B. Marcy led a survey expedition along the Red River to document the river's channel and related streams. The team, which included Capt. G.B. McLellan of the Corps of Engineers, entered the Texas panhandle June 10, 1852 and arrived in what is now Collingsworth County on July 7. Traveling eastward through the southern part of the county, the team identified the sources and route of the Red River. The team left Texas north of Dodson and returned to Fort Arbuckle in present Oklahoma. Their survey later proved important in settling a boundary dispute between Texas and Oklahoma.
(2006)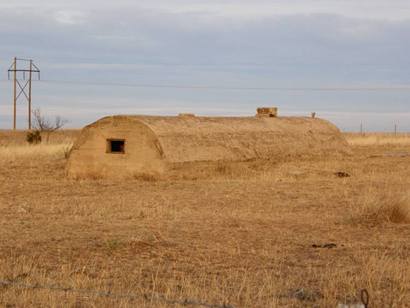 Bura Handley
Chances are good that those citizens of Wellington whose age is less than 60 years may sometimes wonder just what the man whose name adorns the Bura Handley Community Center was really like. Perhaps this small accounting of history will provide some answers to that question, as well as a degree of insight into the character, integrity, and sheer genius of the man whom I was privileged to call my "Dad", while others simply referred to him as "Mister Wellington."
Texas Escapes, in its purpose to preserve historic, endangered and vanishing Texas, asks that anyone wishing to share their local history and vintage/historic photos, please contact us.
Custom Search