Kiomatia History in a Pecan Shell
Kiomatia dates from 1816 when it was considered to be a part of Arkansas Territory. Earliest area settler is thought to be Claiborne Wright who lived on the north side of the Red River at Pecan Point. When Wright died, his sons crossed the river and settled at Kiomatia and Jonesboro. Travis George Wright was granted a post office in 1850 and the submitted name had been Kiomatia which is an Indian word thought to mean "clear water."

Most of Kiomatia's history revolves around its various post offices (at least six) and their changes of name. The rather lengthy and confusing story can be read at length in other sources. In 1880 Kiomatia had a population of 100 and after all the changes, closings and reopenings of the post office, finally in 1898 the town reverted back to a variation of Kiomatia (Kiomache) in 1898. But the story didn't end there. In 1908 it reverted back to Kiomatia and was closed ten years later. This closure lasted until 1924 when it was reopened. Finally the post office closed for good in the 1950s and everyone breathed a sigh of relief.

The town reached its population zenith in 1914 with 250 residents and then plummeted to a mere 46 during the Great Depression. From 1968 through 1990 it was a reported sixty-one - and the 2004 state map shows a estimated 50 people.

Kiomatia Today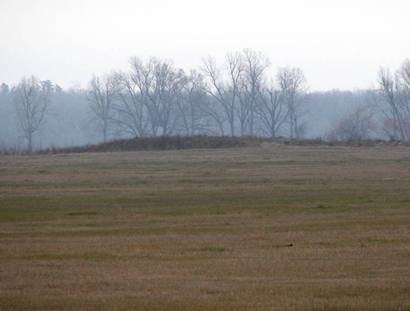 "Don't really know if that is Faskin Mound but it is the only rise on the east side of the road." - Barclay Gibson, February 2007 photo
"[According to] T. Lindsay Baker the bars on the store are made from buggy wheel rims. They are barely visible next the Coke sign on the wall." - Barclay Gibson, February 2007 photo