History in a Pecan Shell

Local author Martha Sue Stroud called Red River County the "Gateway to Texas," which is a pretty apt description. North of Clarksville lies Jonesboro, the site of a prominent ferry crossing and steamboat port. The town, which had a hotel, a blacksmith shop, and several warehouses, developed in 1816 and served as the Miller County, Arkansas seat for a while. Famous men like Sam Houston, Davy Crockett, Benjamin Milam and Stephen F. Austin entered the state here, where they then picked up the Trammel Trace (the northern road to Nacodogches) - maybe to find more action? In any case, county historians like to argue that Jonesboro should be considered the first permanent settlement of Anglo-Americans in New Spain. Unfortunately for them, state historians dismiss its importance because Jonesboro wasn't considered a legal part of Texas until 1836, and still give Stephen F. Austin's colony the nod. Those sticklers.

Poor Jonesboro, wiped out by a flash flood in the 1840s, is not even a ghost town anymore. Only an old tombstone reminds one of what used to be there.

The site is now a roadside park on FM 410, near Kiomatia, Red River County.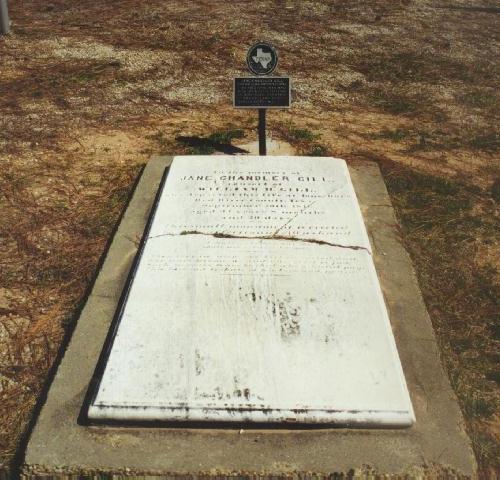 Jonesboro Grave: This tombstone is the only original remnant of Jonesboro. A farmer found it in his field nearby as he was plowing. It commemorates Jane Chandler Gill, an English woman who died in 1846, shortly after making the Red River crossing.
Photo courtesy Robin Jett, July 2003
Jonesboro Marker at the Jonesboro roadside park reminds the reader that "Near Here at the old Jonesboro Crossing Sam Houston an envoy of President Andrew Jackson first set foot on Texas soil December 2, 1832."
© Robin Jett
July 2003
Robin Jett publishes Red River Historian, a newsletter about the history of the Red River Valley - both Texas and Oklahoma. She can be reached at robin@redriverhistorian.com

Texas Escapes, in its purpose to preserve historic, endangered and vanishing Texas, asks that anyone wishing to share their local history and vintage/historic/contemporary photos, please contact us.
Custom Search