---
History on a Pinhead

Ironically, Time has very little history. A post office was granted in 1896, but closed in 1931. The 1914 population was only 40 people served by two stores. It increased to 75 people by 1925, however by 1939 it was back to 40. When Toledo Bend Reservoir was constructed in the late 1960s, Time was inundated and joins the soggy roster of submerged ghost towns.


Time, Texas Forum:


"Time, Texas was founded by my great grandfather, Thomas Neil Beall. The following information was passed on by his son, Carl Arvid Beall, who grew up in Time. It was told by Arvid in the 1970's and printed in an article, "guiding on Toledo Bend Lake." There was also a schoolhouse in Time that both my grandparents attended. I went there in the 1970's myself, and it was just woods, with some earthen mounds. I hope this is useful." - Celeste Waller Milam, Texas, June 14, 2012


"My Dad had a small country store up at Time. It sold general merchandise. Her also had a cotton gin. We ginned cotton and ground meal for people. It was over here between Patroon Creek and the Sabine river. At one time there was a big settlement in there but now they took that land, and all, and put the river in there, and there ain't nobody lives over there now...ain't no such place. We had a post office and all over there. It's been dead, plum dead, ever since they put in this Toledo Bend dam, but just over half of them had moved out before then, in the 30's and 40's."


"Something pretty interestin', in old times, back in them days, back up at old Time, Texas, A pretty big community was there, and everybody was trying to help each other. Lot of people was clearing up new land, putting in cultivation, and they'd give what they called a 'log rollin' . And all the community would meet up there, and we had what we called 'hand sticks'. And they had them logs cut up and they'd take them hand sticks and one would get one side and one on the other, and they'd get 7 or 8 men on that log, and tote it and put it on a heap....where they could burn 'em up. They helped each other that way. The women would all meet and bring dinner, and we'd have a big dinner. When we got ready to cover a house, we done the same thing. And back in those days, most everybody built mud chimneys."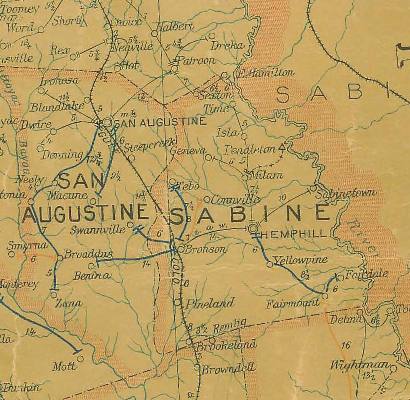 ---
---
Texas Escapes, in its purpose to preserve historic, endangered and vanishing Texas, asks that anyone wishing to share their local history and vintage/historic photos, please contact us.