---
Architecture | Courthouses
The Fabulous Ruffini Brothers
Frederick Ernst Ruffini
and Brother Oscar
by Johnny Stucco
When looking at Texas Architecture, the name Ruffini is found incribed on more than a few cornerstones around the state. Together these two designed many of Texas' notable 19th Century buildings. If you see a mansard roof on a surviving courthouse or jail, the chances are good that it was touched by a Ruffini. The boys were born to Ernst Frederick Ruffini and Adelaide Riehme, a couple who had immigrated from Europe in 1848. After a brief stay in Chicago, they then moved to Cleveland where F.E. was born in 1851 and Oscar in 1858. As soon as the boys had acquired a basic education, they were apprenticed to local Ohian architects.
---
---
Frederick Ernst Ruffini
1851 - 1885
After leaving Ohio, F. E. worked in Indianapolis, New York, Boston, and Chicago before finally arriving in Austin in 1877. He entered into a two-year partnership with Jasper N. Preston. A fruit of this partnership was the Bastrop County Courthouse - a building that's still standing, albeit without its clock tower. After his split with Preston, Frederick started designing his own courthouses, jails, and commercial buildings. (An incomplete list of buildings follows.)

Some of these buildings include: the former Blanco County Courthouse (recently restored) in Blanco, the restored Collin County "Prison" in downtown McKinney and the former Millett Opera House in Austin. His best known works in Austin included the Hancock Building and the Old Main Building at the University of Texas - both now gone. The Hancock Building, where Ruffini once had his office, burned in 1883, was was restored, changed into an opera house and finally demolished.

Ruffini's wife died in October of 1885 when the UT building was still under construction. Frederick died the following month - leaving behind three children.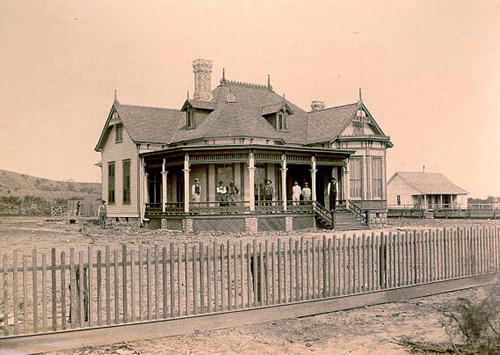 The F. E. Ruffini House in Austin
Photo courtesy Texas State Library & Archives
Rockdale City Hall Front (South) Elevation
Architect - F. E. Ruffini
Courtesy Texas State Library & Archives
Notable Buildings - Standing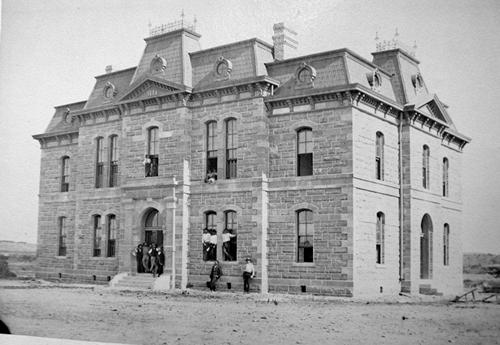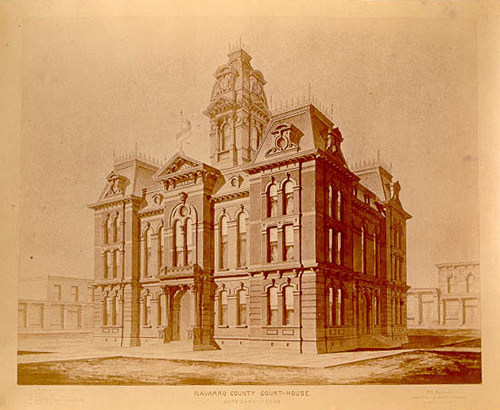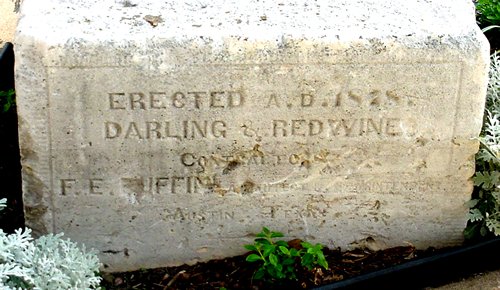 ---
Oscar, after his apprenticeship, worked in Ohio from 1875 and also came to Austin in 1877 to work for Frederick as a draftsman. From 1878 to 1880 he went abroad; returning to Austin in 1883. He then spent a few months working for Elijah E. Myers, the architect who would soon design the Texas State Capitol. After that short stint, Oscar returned to work in his brother's office. He helped supervise completion of the UT administration building after his brother's death.

In 1884 Oscar's doctor suggested that he move to San Angelo for his health. The advice was sound, for he led an unusually long and productive life in Tom Green County. His first project was supervising construction of the Tom Green County courthouse. The city benefited greatly from having such a talented resident and many of his commercial and public buildings, residences, and churches are still standing. Oscar never married (which may also have been a factor in his longevity) and walked everywhere he went. He was still working well into his 90s and died in 1957 as one of San Angelo's most beloved citizens.
Notable Buildings - Standing
---
Texas cities that have been touched by one Ruffini or the other:
A partial list:
( *denotes buildings that have been razed)


---
---