LEIGH, TEXAS
AKA Antioch, Texas
Harrison County, East Texas
FM 134 and FM 1999
14 Miles NE of Marshall
Population: 100 (estimated in 2000)
Leigh Area Hotels - Book Here:
Marshall Hotels
FM 134 near downtown Leigh
Photo courtesy Gerald Massey, January 2009
History in a Pecan Shell

Habitation of this area is said to date to pre-Columbian times. Early settler J. J. Webster built "Mimosa Hall" a mile southwest of the community in the 1840s. Antioch, a predominantly Black community sprang up around the Antioch Baptist Church sometime prior to 1900.

With the arrival of the railroad in 1900, residents from nearby Blocker, Texas moved to Antioch and a general store was opened by the Reverend James Patterson. In 1901, the name of the community was changed and a post office opened.

The population was given as 50 for 1914 and the town peaked in the mid 1920s with 126 residents.

It declined to 100 for the 1930 census and has remained there through the 2000 census. In the 1950s the railroad moved north of the town. Leigh still has two churches, Antioch Baptist and St. Paul's Episcopal as well as the cemetery and scattered residences.


Photographer's Note:
Leigh, Texas
It is on the map. It is somewhere between a ghost town and a village. It is located in the Pine Woods area of northeast Texas, about 13-miles northeast of Marshall, Texas - as the "Crow Flies." Now if the Crow had to walk and push a flat tire' it would be best he start at Waskom on I-20 on FM134 and proceed north for about 11-miles. I have passed through here many times going to Uncertain to ride my Je Ski on Big Cypress Bayou and also going to the fabulous Jefferson.

There are two neat churches, a cemetery, an old falling down large brick store...

Lady Bird Johnson's early childhood home is only a short distance away. It is about 5-miles at the intersection of highways TX-43 & FM-2582 - about only 3-miles south of Karnack.
St. Paul's Episcopal Church
Photo courtesy Gerald Massey, January 2009
Antioch Missionary Baptist Church
Photo courtesy Gerald Massey, January 2009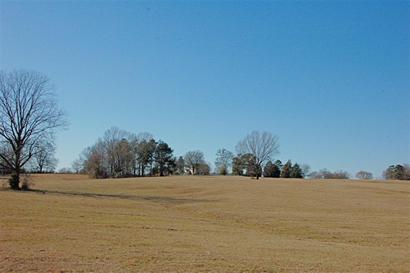 Leigh Area Hotels:
Marshall Hotels

Oonie Andrews, the ghost who lives in Lady Bird Johnson's family home at Karnack

She is as much a part of the old mansion that Jett Jones, who grew up with Oonie, simply considers her "a lady who lives in the house that nobody else can see."

In 1843, Milt Andrews built a splendid plantation-style mansion near Karnack. Sometime in the l880s, Andrews' 19-year-old daughter, Eunice, sat alone in an upstairs bedroom when bolt of lightning from a stormstruck the chimney, raced down a fireplace, and hit Oonie. She was burned to death.

Over the years, stories arose that the ghost of Miss Andrews never left the bedroom. Eerie noises, odd happenings, and ghostly apparitions soon became common. When the Andrews family sold the house to T.J. Taylor -- Lady Bird Johnson's father -- in 1902, the ghost went along with the sale. While Lady Bird said she never saw or heard the ghost, she admitted feeling a sense of apprehension and unease in the house as a child. - From Ghosts in East Texas by Bob Bowman

Uncertain, Texas, Caddo Lake and Cypress Trees by N. Ray Maxie
Just a mile or more east of Jefferson in far northeast Texas and only a stones throw north of Karnack, is the great mysterious Caddo Lake... more