History in a Pecan Shell
Settlement began in the 1870s and was named after early settler Andrew Martin Sheppard who was a storeowner and the community's first postmaster. The Shep post office opened in 1903 and closed its doors 20 years later.

The Shep Methodist Church was founded about 1881 and the church's 1914 building still stands. The Shep Baptist Church was organized about 1895, and the Church of Christ in 1911.

The town once had three physicians. Earlier figures are not available but in 1985 the population was a mere 60 people. The community was struck by a tornado in late April 1985, which caused extensive damage and took the life of one resident.
"The barn was an old one room school that was moved to Nolan from Shep. It was never a school in Nolan, but had been in Shep. I believe there was an extension wing placed on each side of barn that was not part of the school building." - R. Brett Rowlett, LPC, Sweetwater, TX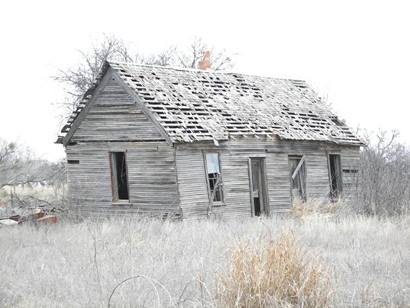 Shep, Texas Forum
Subject: Shep,Texas
Drive-up Wedding 1906
Thanks for recording the brief history of Shep, Texas. My brother and I made a visit to the site recently to see the place where our grandparents were married in 1906. Francis E. Vest and Fannie L. Gilbert were married sitting in a buggy while the preacher stood on the front porch. Sorry we do not have pictures. Our mother Opal Vest was born a year later in 1907. We had a nice visit with a lady who lives across the street from the Church Of Christ. There is also a community building in Shep. We would like to hear from any Vest Family descendants or someone who knows more about Shep and Blackwell. Thanks again. - Jim D. Northcutt & Doyle Bowman, Jdmnorth@aol.com, June 24, 2007
---
Texas Escapes, in its purpose to preserve historic, endangered and vanishing Texas, asks that anyone wishing to share their local history, stories, landmarks and recent or vintage photos, please contact us.