Texas | Trips | Drives


Route 77: "The Padre Road"
Victoria, Texas to the Rio Grande Valley

Seven Bridges, Five Rivers, Two Creeks and
One Interesting Drive

By Ken Rudine
Sign in Riviera
If the road had colors, they would be turquoise and terra cotta
Photo courtesy Ken Rudine, March 2008
Editor's Note:
Ken "Mr. Third Coast" Rudine spends his year alternating between Houston and Port Aransas and is as familiar with highway 77 as most people are with their route to work.

While photographing the unusual drawbridge at Rio Hondo, Texas, it occurred to Ken that due to modern construction, the bridges along route 77 are now seamlessly incorporated into the highway infrastructure. To add to his already extensive coverage of Coastal and South Texas on Texas Escapes, Ken made a point of stopping at each river (and notable creek) between Brownsville and Victoria. Inspired by the "Mother Road" of Route 66, Ken has designated this portion of Highway 77 "The Padre Road." Pulling on and off the high-speed highway and finding snake-free vantage points isn't the easiest way to spend a trip, so our thanks go out to Ken for sharing what we ourselves have missed. Without the attention to detail, the trip might just be considered "water under the bridge(s)."

The photos provided are a sampling of what might be encountered between Victoria and Brownsville, and the trip is not meant to be a step-by-step itinerary. Clicking on the links of the towns in the article will provide a more in-depth look at the towns along the route. - Editor
---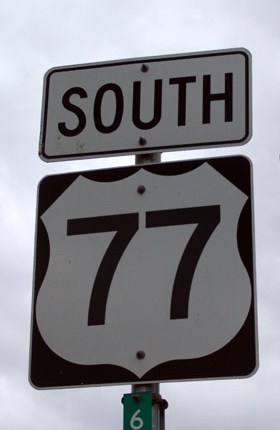 Highway 77
Crossing the Red River north of Gainesville, Texas, Highway 77 arrives 565 miles later at the State Travel Information station in Harlingen; a building that sits in the shade of the six flags that have flown over Texas.

The first 360 miles of Highway 77 from crossing the Red River north of Gainesville to Victoria is much like any other road in Texas. But leaving Victoria en route to the Rio Grande Valley, the landscape becomes distinctly coastal for the remaining 230 miles.

The portion of Route 77 I call "The Padre Road" is the last 80 miles and if one looks closely enough, there are glimpses of every era in Texas history, from the original Spanish land grants to the present.
The Familiar Six Flags of Texas
Photo courtesy Ken Rudine, March 2008
---
The Towns

Taking the drive down Route 77 from North to South, you will encounter the following towns:
Victoria*, McFaddin, Refugio*, Woodsboro, Sinton*, Odem, Robstown, Driscoll, Bishop, Kingsville*, Ricardo, Riviera, Sarita, Raymondville*, Harlingen

Continue the drive to the Mexican border and visit:
Combes, LaFeria, San Benito, Rancho Viejo, Olmito and Brownsville*

* Asterisks denote county seats
Victoria County Courthouse in Victoria.
TE photo
A Green Jay
Laguna Atascosa National Wildlife Refuge,
East of Harlingen
Photo courtesy Ken Rudine, December 2007
---
The Rivers

If one begins from Victoria, the seven rivers and creeks crossed by The Padre Road would be the Guadalupe River, the San Antonio River, Coleto Creek, the Mission River, the Aransas River, the Nueces River and finally Los Olmos Creek.

If one begins at Robstown, only Los Olmos creek, a few miles south of the starting point will be crossed. The other six creek and five rivers are more frequently-spaced between Victoria and the highway turnoff for Corpus Christi. That trip in itself would provide ample adventure for another memorable Sunday drive.

If the trip is extended from Houston, then three more rivers would be added to the itinerary. These would be the Brazos at Richmond, the San Bernard near Kendleton and the Colorado at Wharton.
The Guadalupe River
Photo courtesy Ken Rudine, March 2008
Coleto Creek
Photo courtesy Ken Rudine, March 2008
The San Antonio River
Photo courtesy Ken Rudine, March 2008
Mission River
Photo courtesy Ken Rudine, March 2008
The Aransas River
Photo courtesy Ken Rudine, March 2008
The Nueces River
Photo courtesy Ken Rudine, March 2008
Los Olmos Creek
Photo courtesy Ken Rudine, March 2008
One of the timeless fruit stands (northbound) on Route 77
Photo courtesy Ken Rudine
The palm-lined southern section of Route 77
Photo courtesy Ken Rudine